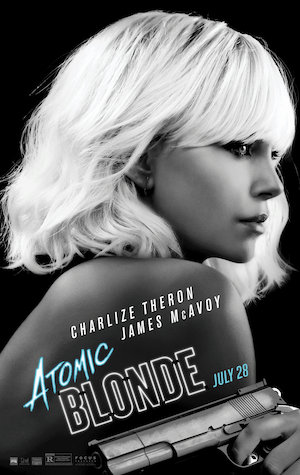 [Rating: Minor Rock Fist Down]

About two-thirds of the way through the Charlize Theron-led retro-styled action thriller Atomic Blonde, the film's centerpiece arrives. It's an unbelievably energetic fight sequence, expertly choreographed and stitched together to look like it was shot in one take.
It begins with easy-to-track gunplay in a Berlin apartment building—bullets zinging, missing, and sometimes landing with deadly consequences—every injury felt. As MI6 agent Lorraine Broughton (Theron) singlehandedly fends off a Russian-German gang of macho thugs, the fighting becomes more intense. It transitions into hand-to-hand combat. This highly skilled, tough-as-nails female agent is more than holding her own vs. her male counterparts—she's besting them.
But it's taking a toll.
Her face is bruised up, she's wincing in pain, limping, doubled over, catching her breath. To be fair, the baddies are too, but what audiences are not used to in an action scene this admirably staged (besides people visibly getting tired and missing as much as they hit) is a realistic portrayal of what fighting does to a person. In this case, a woman. Is it problematic? Maybe, but it's also thrilling to see Theron kick some ass in a gritty way without all the fantasy-world fetishizing and seemingly invincible histrionics that usually come with a modern-day female action hero (see Kate Beckinsale in the Underworld franchise, for example.)
The sequence eventually ends in a gripping car chase with both Lorraine and her lumbering charge (Eddie Marsan) bleeding profusely, the stakes of the conflict visibly changed.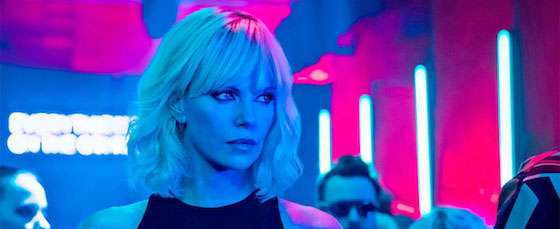 Why did I spend 70 percent of the review talking about this scene? Because unfortunately, it is the one bright spot in an otherwise dull, impossibly contrived spy thriller that's dressed up with a pulsing 80s synth-pop soundtrack and a darkly lit neon setting. The historical context of the 1989 fall of the Berlin Wall, a metaphor of peace and goodwill between former enemies, is obviously intended to play against the concurrent narrative of the cynical, ever-shifting loyalties of spies. But it doesn't work.
The film's director, David Leitch, is a former stunt coordinator who made his reputation with the lean, mean John Wick series. But there's something to be said for Wick's straightforward narrative within a picture entirely populated by bodies in motion. Atomic Blonde's script, adapted from a graphic novel, is too clever for its own good, with twists that are obvious from the get-go, and a whole lot of misplaced sympathy that its characters never earn. Simply put, it's a miss.
But oh boy, that one sequence. It's so good it may go down in the history books.
This review is part of Eric Melin's "LM Screen" column that appears in the summer 2017 edition of Lawrence Magazine.