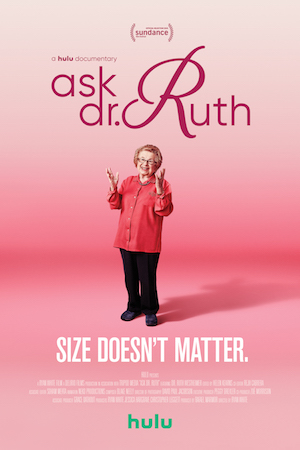 [Rating: Minor Rock Fist up]
You may not know who Karola Siegel is. But many people know the famous sex therapist Dr. Ruth Westheimer. For almost 40 years, she has been a staple in the way America thought about and discussed sex.
She has hosted radio and television shows and written around 40 books on relationship advice. Ask Dr. Ruth is a celebratory chronicle of her life as she approaches her 90th birthday. Like the legend herself, it captures audiences and reveals things about a woman who has led and survived a most interesting life.
At almost 90 years old, Dr. Ruth is still active, writing books, making public appearances, sharing sex advice, and on the go. The film opens in her Washington Heights apartment in New York; a solid introduction to a woman who refuses to retire or slow down. Director Ryan White (The Case Against 8) blends a nice balance of modern-day footage, vintage media clips, and interviews to present the life story of America's most famous sex therapist. We get to see her days defending her views on homosexuality during the AIDS crisis, doing research on her parents who died in the Holocaust, and her immigration to America. There's even a retelling of her time in the Jewish Underground Army (Haganah) as a sniper!
Most of her history is told in poignant, animated flashbacks voiced with her high pitched, strong German accent. The sketch animation mixed with modern day on-location shots looks great. David Jacobson's cinematography captures the beautiful landscapes of Switzerland as well as parts of Israel, including Yad Vashem, The World Holocaust Remembrance Center.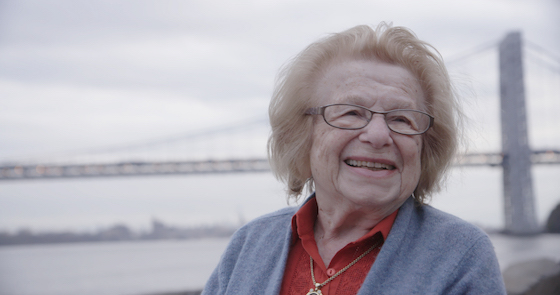 There were some tender moments in this film that reminded me of another well done bio-doc. Just like Ruth Bader Ginsberg's tale of her love affair with her husband Martin in RBG, we get to hear the intimate stories of Dr. Ruth's loves, including her first boyfriend (with whom she still remains in contact) and her three husbands.
The most interesting scene was with her granddaughters. They ask Ruth if she thinks she's a feminist and she denies it. She calls herself "old-fashioned," a term that may surprise the thousands of people who have watched or listened to her sex advice shows over the years. As public a persona as she is, the film reveals a reserved, private woman who may have insulated many pains of her past from her family, friends, and the general public at large.