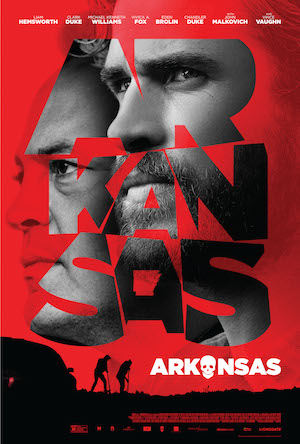 [Rating: Minor Rock Fist Up]
In his directorial debut, comedian Clark Duke (Hot Tub Time Machine) really set out to break stereotypes in Arkansas, available today on VOD.
"This is (my personal version of) the real South," he said. "There are no banjos on the soundtrack. The real South is heartbreaking and hilarious…" And that's exactly what this crime drama is.
With a robust cast, the story mainly reflects on two drug runners in the South, played by Liam Hemsworth (The Hunger Games) and Duke himself. Their jobs are handed down to them by a drug kingpin that they never met, named Frog (Vince Vaughn), through his proxies (John Malkovich and Vivica A. Fox). What follows are five chapters that blur time and deliver a riveting, if not hard to follow at times, thriller of a film.
The two highlights of this film are the story and the cast. Based on a novel by John Brandon, the screenplay is raw, gritty, with plotted moments of humor. There's flashbacks and flash-forwards that can be disorienting at times if you're paying attention to the details. With hints of neo-noir, the main duo's situations and screw ups are similar to a Coen Brothers movie but not as comedic when it comes to the characters who seem to be over their heads.
You can see how the star-studded cast was drawn to this project. It plays as a slow burner, albeit with an anticlimactic ending. Hemsworth plays his role stern and balanced. His character has an aloof cool about him and he carries it well. Of course, there was more Malkovich needed. There was never enough of him onscreen or my old Flatbush neighbor, Michael K. Williams. I'm also loving the more dramatic roles Vince Vaughn has been taking on lately. His role in this one is more definitely Riot in Cell Block 99 than it is Wedding Crashers and that's really OK.

Other highlights include music by The Flaming Lips and a very interesting wardrobe design that add to the genuineness of this movie. Besides the violent crimes depicted, the thing that's most memorable about Arkansas is the ability to be authentic without being cliche. If nothing else, Clark Duke definitely executed that.