There's hardly an extended action scene in Ed Harris' new Western "Appaloosa." Everybody is such a good shot that almost all the gunfights last about two seconds. Actor/co-writer/director Harris, working from a book by Robert B. Parker, is clearly not worried about modern action conventions. He also knows what classic Westerns should look and sound like—lots of gorgeous landscape shots at dusk and homespun, crowd-pleasing humor that celebrates the "simple" man. A traditional Western in every sense of the word, it seems weird to call "Appaloosa" new at all.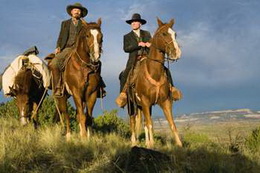 Set in 1882, the movie stars Harris as Virgil Cole, a town marshal who is buttoned up a little too tight for his own good. He and his faithful sidekick, the laconic Everett (Viggo Mortensen), know each other better than brothers. Everett even regularly finishes sentences for Virgil when he gets hung up on big words—a running joke that gets old after the first time. Watching each other's back for 12 years, the duo have become essentially nomadic lawmen for hire, and they travel from town to town taking out the trash (the bad guys). In order to do that, the lawmen require total authority. The town of Appaloosa, New Mexico hires them to take on the nasty Randall Bragg (Jeremy Irons), a rancher whose bullies regularly beat up and kill whomever they please, and in order to do that, town leaders must give up complete executive control.
But the biggest threat to Virgil and Everett comes off the train one day in the form of Allison French (Renee Zellweger), a widow who raises both men's eyebrows. It's a tried and true Western theme: the only thing that can come between the honor and respect that two men have for each other is a woman. In the case of Allison, she's not really the typical virtuous woman in Westerns who just needs protection from a good man. Everything about her past is a mystery. This test to the men's friendship is at the heart of "Appaloosa," but what's interesting is that the pair never doubt each other's loyalty. Rather, the test is about how far each man will go and what they will give up for the other person.
The conflict between Bragg and the lawmen is one of iron wills, and all the actors involved have more than enough chops to involve an audience deep enough into their macho standoff. Everett seems the most human, confiding in a local prostitute, while Virgil has a darker side—a deep, simmering rage that is hinted at but only seen once. Had it been explored any further, this could have been a very different and far trickier, movie. Had Virgil abused his power on a regular basis, it would have leapt "Appaloosa" into different territory altogether. The key to Irons' villainous Bragg is in his eyes. While his steely gaze suggests a man at the ready to fight at a moment's notice, you also get the feeling that he may have met his match in Virgil.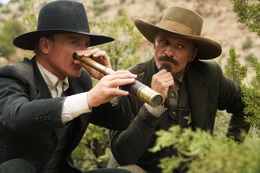 There are several interesting subplots and minor characters, such as a young ranch hand brave enough to tattle on Bragg, whose backstories aren't really delved into. It feels like Harris may have jettisoned elements from the novel in favor of setting a relaxed pace and sticking to the thrust of the main story that he wanted to tell.
"Appaloosa" doesn't break any new ground. It's not a revisionist Western, but it's a solid throwback to the kinds of movies that championed the values that defined America during its expansion. In essence, when Virgil and Everett act with authoritarian power, they remain on a higher side of moral authority.
It also feels very much like a pet project of Harris, who hearkens back to a less-complicated period in history when men (at least the ones they made movies about) actually said what they meant and meant what they said. I suppose that there is some sort of comfort to be taken in a movie that champions uncomplicated, if unelected, officials like this coming out at a time when we have little to no faith in ours.