If sheer effort and dogged perseverance were enough to guarantee success, then Steve "Lips" Kudrow and Robb Reiner (no relation to the director of "This is Spinal Tap") of the Canadian heavy metal band Anvil would be household names. They shared the stage in the mid-80s with Bon Jovi, Whitesnake, and the Scorpions, but somehow the worldwide success of these other bands passed Anvil by.
Sacha Gervasi's documentary "Anvil! The Story of Anvil" does what any good story does. It presents a likeable cast of characters, puts them in lots of tough situations that test their mettle, and—with humor and sincerity—illuminates their souls. It just so happens that the two men who populate this story used to wear leather S&M gear onstage and play guitar with dildos.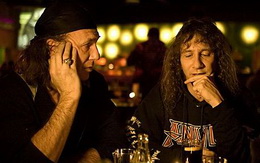 As you can probably tell from the sentence above, Anvil's stage antics, lyrics, and album covers have a lot in common with legendary mockumentary subjects Spinal Tap. The similarities to Spinal Tap continue right up until the end, when the Anvil play in Japan with high hopes. (This is akin to the Tap reuniting with Nigel and touring the country just as "Sex Farm" has hit number five.)
Unlike those lovable lunkheads, however, Anvil is a real band. When the 80s metal explosion died down, though, Anvil were nowhere to be found. Huge thrash metal successes such as Slayer, Anthrax, and Metallica count the band as an influence, but a combination of poor-sounding albums put out on tiny independent labels and that inevitable "luck" factor has somehow left the band toiling in obscurity.
Although the film glosses over the exact circumstances and timeline of Anvil's unfortunate last 20 years, it picks up in 2005. Lips is now a delivery driver who brings lunches to schools. At night, he plays with a reconstituted version of Anvil on his 50th birthday that draws about 50 people at a local pub.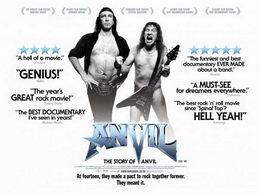 He and Robb are the only original members of Anvil and, after all this time, they refuse to quit. What drives them, at least partially, is this feeling that they deserve success. They put their families (who are endlessly understanding) on hold for a disorganized European tour and wonder how they are going to get the money to work with a first-rate British producer for a comeback album. No matter how many things go right for Anvil, there are always more that seem to go wrong.
What makes the film such a joy are its subjects. Lips is an eternal optimist. The most enduring image from the movie is his mile-wide smile. When he's sitting at the wheel of his delivery vehicle after the disastrous tour, he wants to focus on the fact that, for a time, he was actually touring Europe and not driving meals around Toronto. I can relate.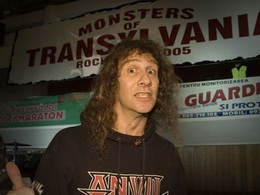 Having had two major-label record deals that went sour myself, I found a lot of stuff in "Anvil!" that rang regretfully true. I was constantly reminded by Anvil's enthusiastic frontman to remember all the good things about the time spent "on top," even as Lips' undying dedication to his band suggested that maybe I shouldn't have given up either.
What really takes the movie to another level however, are the moments where Lips and Robb (and some of their family members) reveal deep truths about themselves while the camera is rolling. Be it an argument or an interview, Gervasi was able to get these rare and touching glimpses into the lives of these people in the most honest way possible. It really feels like the subjects don't notice or don't care what that the camera is constantly present.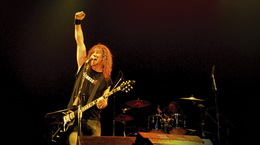 It turns out that Gervasi (whose screenwriting credits include "The Big Tease" and Spielberg's "The Terminal") was a roadie for Anvil on three tours in the early 80s and was known by the nickname Teabag. I'm sure this helped everybody he was filming let their guard down a little easier.
Regardless of what you think of the band's music, the story of Anvil is a universal one. Anyone who has ever had a dream will be able to relate to "Anvil! The Story of Anvil," and it is thanks in part to the director, who molds the material into an efficient story.
Like 2007's stellar Donkey-Kong-world-record-controversy doc "The King of Kong: A Fistful of Quarters," "Anvil! The Story of Anvil" may not be the documentary that you think you want to see right now. But, also like that film, it may be something in which you find all kinds of unexpected poignancy. Don't let it pass you by.