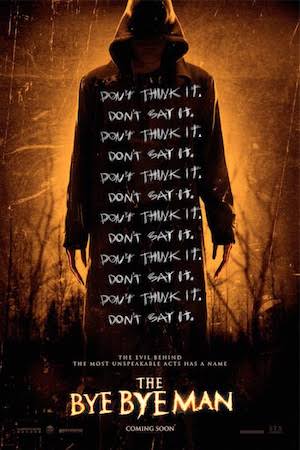 [Rating: Minor Rock Fist Down]
2016 was a great year for horror movies.
From The Witch and The Invitation to the The Autopsy of Jane Doe, there have been some truly great horror films released.
While the new movie The Bye-Bye Man kicks off with a chilling start, the wheels seem to fall off this largely familiar tale of terror well before the credits roll. A mash-up of teen horror films like the Final Destination series, to the creepy-pasta tale of the Slender Man, the movie quickly starts to feel like a patchwork of stories already told to death.
The movie follows three young college students. Best friends Elliot (Douglas Smith) and John (Lucien Laviscount) are moving in with Elliot's girlfriend Sacha (Cressida Bonas). The threesome have found an enormous house to rent, your typical creepy old home located in the middle of nowhere. After a night of hard partying, Elliot finds creepy scribbles scrawled inside of an old nightstand. He of course learns (and spreads) the name of the story's boogeyman, or Bye-Bye Man. Chaos quickly ensues.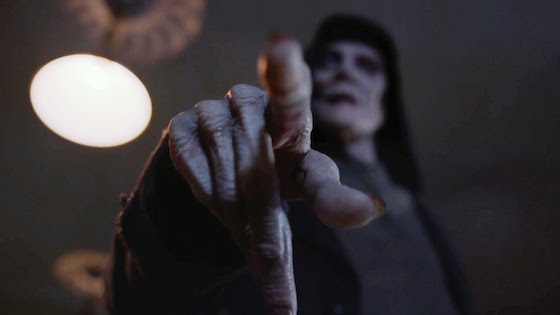 Sadly, The Bye-Bye Man relies almost completely on jump scares. While there are a few that may actually pull off the gasps, they become familiar and tired very quickly. The villain himself is played by Doug Jones, an actor well known for fantastical characters in films like Pan's Labyrinth and both Hellboy films. He is probably the most fear inducing image in the film, a silent, stalking, pale skinned menace covered in scars. However, the severity of some of his scenes seem diminished when his demonic CGI pet rears its ugly head.
Written by Jonathan Penner, The Bye-Bye Man was adapted from a chapter in Robert Damon Schneck's book The President's Vampire. While the film is based on the story, onscreen it feels like a series of scenes borrowed from numerous other horror films.
By the film's end there are really no surprises, with the chances for a likely sequel left wide open.
While it was nice to see director Stacey Title try to deliver the scares without relying on blood and gore, in the end The Bye-Bye Man is a paint-by-numbers horror movie featuring too-familiar elements that have been repeated over and over in the genre.