About halfway through "Angels & Demons," I started thinking about when it would end. Admittedly, that may have had something to do with the fact that the season finale of "Lost" was waiting for me on my DVR at home, but nevertheless, that's a bad sign for any suspense movie.
"Angels & Demons" is director Ron Howard's sequel to his earlier "The Da Vinci Code," itself an adaptation of best-selling author Dan Brown's second book featuring American symbologist Robert Langdon. Confused?
Of course not. You probably already know that Howard filmed the book series out of order because he wanted to start with the more popular title. And you probably already know that "The Da Vinci Code" was a dreary adaptation that was a lot harder to translate to the screen than most people thought.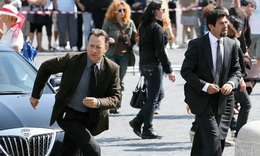 "Angels & Demons" succeeds partly in that it's faster paced than its filmic predecessor, but it suffers from many of the same problems. Tom Hanks plays Langdon with the required amount of reverence and confidence for a second Vatican scavenger hunt, but outside of a couple conversations about his lack of personal faith, there's not a lot of time to get to know or care about anybody.
In a suspense thriller that uses the "ticking clock" device over and over again like "Angels & Demons" does, character development isn't exactly the first thing you're looking for, however. After the unexpected death of a beloved pope in the Vatican, an assassin is threatening to kill the four Preferiti—the cardinals most likely to take his place—one every hour until midnight, when an antimatter bomb (developed by fetching Italian scientist Vittoria Vetra) is scheduled to go off.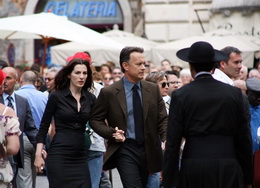 This format alone means that there will be more moments of tension than the first movie, and Howard keeps the pace brisk by having Langdon and Vittoria (Ayelet Zurer)explain the meaning behind various ancient books, statues, and other clues while walking feverishly under pressure of time. Each clue leads them to the murder sites, all strategically chosen by a fabled anti-church group of scientists known as the Illuminati.
It's an unfortunate trade-off, though, because the film's necessary fast pace robs the story of its most interesting element—the backstory of each old-world symbol. Remember, it's not his prose that makes Brown's novels such page-turners, it's that mix of thrilling conflict and old-world mystery. Take out the backstory and you basically have an empty episode of "24."
Ewan McGregor acquits himself admirably as young Camerlengo Patrick McKenna (changed to an Irishman from the Italian in the novel to suit the actor), but he's stuck with two of the most laughable scenes of the movie. In one, he delivers a speech that sums up the movie's ultimately non-confrontational view of the Catholic Church—essentially "It's not a perfect church, but it's all we got"—and in the other, he does some outrageous stunt work (although thankfully the ridiculousness of the book's climax is toned down a bit by keeping the 52-year old Hanks out of the action mix).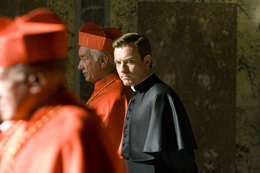 The "church vs. science" debate that grounds the entire film is touched on, but ultimately glossed over in favor of quick thrills and lots of killing. As much action as there is, though, apart from one scene in the Vatican archives, Langdon never seems to be in any real danger. In fact, the killer actually salutes and pardons the Harvard professor more than once, and his reasoning is very convenient indeed.
Ultimately, "Angels & Demons" provides a better surface-view rollercoaster ride ("That statue points there! This statue points here! Let's go!") than its filmic predecessor does, but just barely. We don't gain any more information about each clue other than the little we need to get to the next one, so, like "The Da Vinci Code," when it comes to developing or unlocking any intriguing mystery about the past, it strikes out.
Brown's material might better suited to a miniseries or TV show rather than a two-hour-or-so feature film. Like "Lost," it could make detours and flash back in time, taking longer to explain its significance while retaining its inherent forward motion. His newest Langdon thriller, "The Lost Symbol," is due out in September. Maybe Hanks and Howard could turn it into an HBO series (like they did with 1998's "From the Earth to the Moon").