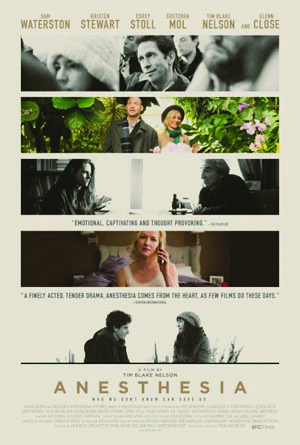 [Rock Fist Way Down]
There's a scene halfway through Anesthesia, opening tomorrow at Screenland Crossroads, where Kristen Stewart's character Sophie is talking to a counselor and a professor at her college.
The professor, Walter, played by Sam Waterson, recently discovered Sophie self-inflicts wounds on her arms and legs by burning herself with a curling iron. As she gets into the why of what she does, she begins to blame society. She says the world has become so inhuman, everyone is always plugged in and "blindingly inarticulate."
That quote, "blindingly inarticulate," stuck out to me because as the credits rolled on writer/director/actor Tim Blake Nelson's melodrama that's how I felt about this movie. Whatever it was trying to say somehow got lost and out came a jumbled mess of horrible people whose actions and lives affect other horrible people around them.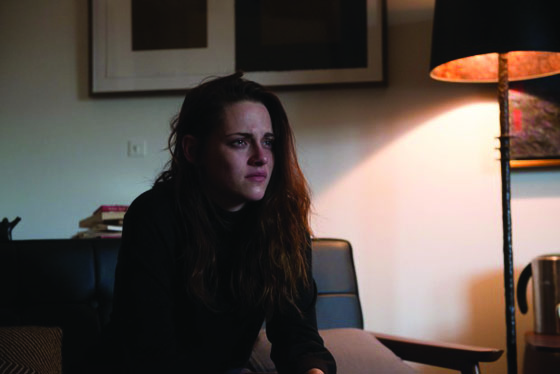 Nelson utilizes traditional dramatic tropes to tell a story with multiple intertwining subplots that goes back and forth through time. The movie begins with Philosophy professor Walter (Waterson), who is stabbed during an attempted mugging. The film then cuts to about a week earlier, to show the audience how Walter, his mugger and his saviors (a drug addict and a man cheating on his wife) all managed to cross paths on that harrowing night.
In the week leading up to mugging, we see Walter tell his wife Marcia (Glenn Close) he's thinking about retiring; Sophie confess to Walter she self-harms herself; and Walter's son Adam tell his father that his wife Jill (Jessica Hecht) might have cancer. That's all just Walter's immediate family. There's also the two random people who end up saving Walter; Sam (Corey Stoll) who's having an affair because his wife Sarah (Gretchen Mol) is a bored housewife who day drinks way more than she should; and Joe (K. Todd Freeman) a drug addict who's friend Jeffrey (Michael Kenneth Williams) is trying to save.
Everyone has issues or baggage they carry with them. I'm going through things in my life right now that I wish I could improve and I'm sure you, the reader, are, as well. But the difference between us and these characters is we aren't defined by these missteps whereas this is all we know about these characters. Is Sam a good father? I don't know because we only see him with his mistress. Why did Joe's life turn out so horrible while his friend Jeffrey was able to become a successful lawyer? I don't know because we only see Joe shooting up and looking for his next score. There are hints of a backstory here and there, but too many characters taking up too much screen time probably caused the studio to make some edits.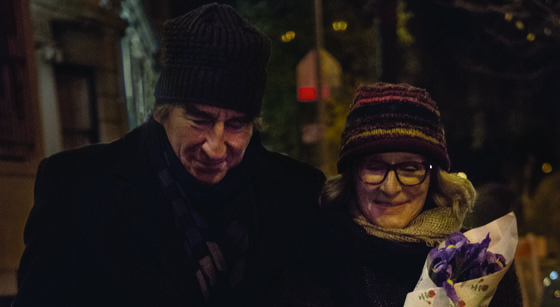 Walter seems to be the only good person in this movie and he pays the price for it by getting mugged and stabbed. Is that the lesson that audiences should take away from this? Being the good guy doesn't work out in the end, so you might as well step on as many people as you can to get to the top of your mountain.
Good dramas have purpose and a meaning. If I wanted to see a bunch of stories about horrible people, I would just watch the news. A few years ago, Nelson wrote and directed the dramedy Leaves of Grass. That film was original, smart, funny and showed tremendous range for Nelson as a writer and director. I'm not sure what he was trying to accomplish with Anesthesia, but hopefully it's only a minor step back.