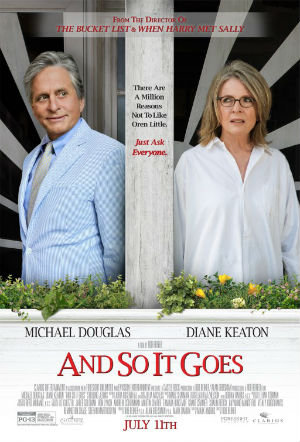 [Rock Fist Way Down]
When a grouchy old man's granddaughter and said old man's next door neighbor decide to conduct a science experiment by observing a caterpillar transform into a beautiful butterfly, little did they know they were actually beating the audience over the head with a weak metaphor about how the old man really wasn't so bad after all. I'm not even joking. That's the real theme of award-winning director Rob Reiner's (The Bucket List, This is Spinal Tap) newest film, And So It Goes, in theaters today.
Since we've pretty much all seen the geriatric variations of this type of movie before, I'll spare you the gory details, but when widower Oren Little's (Michael Douglas) former heroin-addict son drops his daughter Sarah (World War Z's Sterling Jerins) off to stay with him while the son is in prison for a crime he didn't commit, perpetual grump Oren must find a way to entertain her. Thankfully, his widowed next door neighbor Leah (the ever-fantastic Diane Keaton) takes a liking to the girl, and becomes "grandma" until Oren warms up, which of course, he does in stuttering leaps forward as opposed to a gradual shift in attitude.
Leah, meanwhile, is a jazz singer who cries in the middle of her performances because she can't stop herself from talking about her deceased husband. Of course, Oren carries his own baggage in the form of his deceased wife, and spends much of the film trying to sell the home that he and said wife inhabited before she passed. Oren is a real estate agent who just can't learn to let go of the past, and when people come to view the house, he refuses to take less than its value, and is constantly rude and belittling to prospective buyers, some of whom seem all too ready to immediately forgive his rudeness.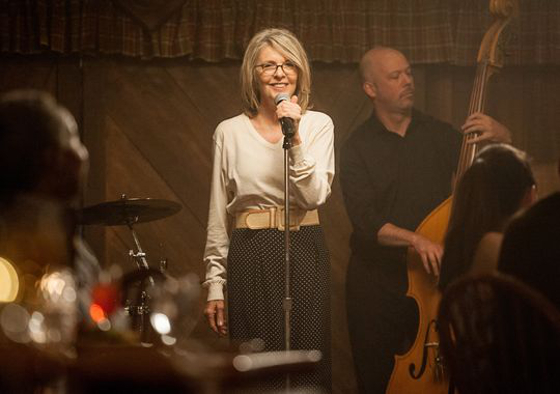 Part of the reason this film is so bad is in its sheer number of cliches and predictability. It's a horrifyingly contrived heap of calculated feel-good moments and other various tropes.  It's even got a little old lady who makes dick jokes and works in the real estate office (owned by her grandson) with Oren. And of course, no wannabe family movie is incomplete without a dog, right? Good thing Sarah adopts a dog. Spoiler alert, Oren and Leah end up together, because I'm sure you totally didn't see it coming.
I could go on, but I'll spare you the rest.
Where this movie really fails, though is the fact that it fails to actually build any real emotional connection between any characters besides Sarah and Leah, or Sarah and her father.  Oren almost feels tacked on, and he's supposed to be the main character! Douglas portrays Oren well as the crotchety old man, or as the doting grandfather, however the script fails to show us real turning points for his dynamic arc, instead using jarring steps between his two extremes, and eventually favoring one over the other.  While the tropes of the film can get annoying and repetitive, this is the real nail in the film's proverbial coffin.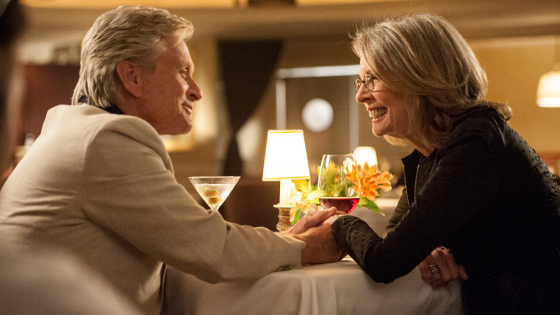 I must admit, I was also slightly disappointed that Billy Joel's track of the same name didn't appear in the film, even though I'm not sure it would fit the theme very well.  Only the Piano Man himself could've saved my opinion of this film.
Actually, just kidding. Not even Billy Joel could make me like this film, though, Keaton's surprisingly sultry jazz tunes help make parts of this movie less terrible along with a handful of legitimate laugh-out-loud moments.
Recently, my mother was wanting to do something together, so I suggested she come along to the screening with me.  As we walked out of the theater, she said, "Well, I'm glad we didn't pay to see that!" I laughed. The old lady in Oren's office tells him during the film that "Love always comes with a price."
Sometimes that price is watching a really bad movie.  Sorry about that, mom.