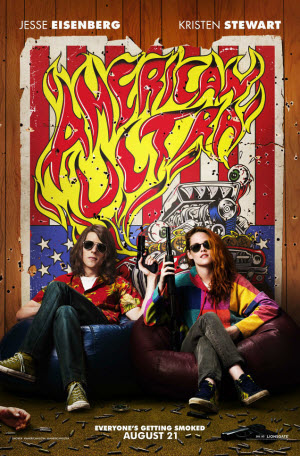 [Rating: Minor Rock Fist Down]
Jesse Eisenberg stars in American Ultra, a spy movie/stoner movie hybrid that plays a lot like if Jason Bourne worked at the same convenience store as Dante and Randal. Eisenberg is joined by Kristen Stewart, Topher Grace, Connie Britton, Walton Goggins, Tony Hale, John Leguizamo and Bill Pullman in this brisk 95-minute comedy that may not be the most original movie of the summer, but at the very least manages to be entertaining at times.
Eisenberg is Mike Howell, a hapless stoner who works in a small, sleepy town and has violent panic attacks every time he tries to leave. Mike's girlfriend Phoebe (played by Stewart) is handler and security blanket, picking up after him, forgiving him for his weird, neurotic behavior, and grinding out at a bail bond company.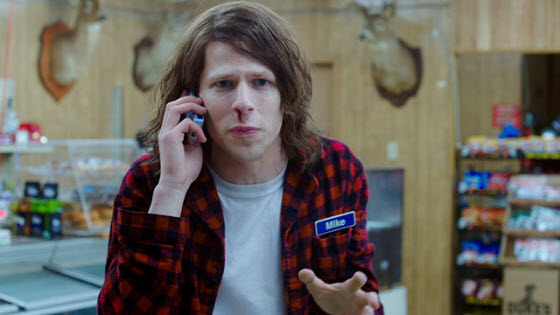 It turns out there's more to Mike than either of them are aware of, and after a government agent speaks a key phrase, he becomes an improvisational assassin, in which anything he touches becomes a deadly weapon. Director Nima Nourizadeh has fun with the action sequences and opportunities they open up for absurd, violent combat, but he never fully realizes these sequences. Particularly during the movie's violent finale.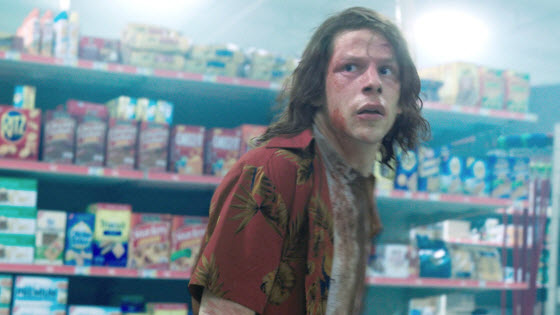 Writer Max Landis has created a solid premise and his script manages to be both humorous while taking its world seriously. Little touches like killers shouting, "Hey!" before throwing a hand grenade or characters pointing out things within the context of the story before the audience can draw attention to it are clever and don't seem forced or needlessly meta.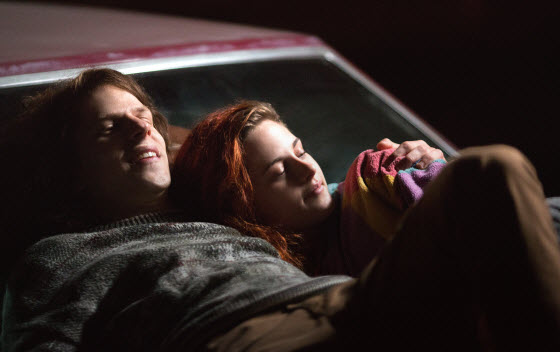 There aren't any real standout performances here. Goggins goes criminally underused as an operative with a hyena laugh. Britton hardly gets any screen time, ditto to Hale and Pullman is there to add some gravitas to anyone who grew up watching him as the president in Independence Day. Grace gets a little room to go big, but it's a variation on the same quirky, nerdy character he's played for years. Ditto to Eisenberg.
In all, American Ultra is a sturdy, if not underwhelming action movie that suffers from some tepid direction. The script is solid it's perfectly cast, even if they don't have a lot to do. One of its biggest advantages is that it's one of the few movies this summer that isn't a franchise or jumping off point, so there are actually some stakes involved. But that's not enough to sustain it.