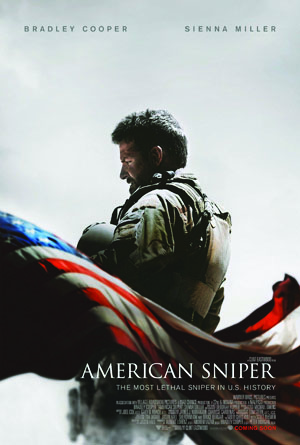 [Rating: Minor Rock Fist Up]
American Sniper is a tense, heart wrenching, vivid account of war and the stranglehold it places upon the human mind. However, it was cautiously made, presumably not to upset the surviving family and friends.
From director Clint Eastwood, American Sniper stars Bradley Cooper as U.S. Navy SEAL Chris Kyle, the most lethal sniper in U.S. military history. Kyle had 160 confirmed kills, that's at least the Pentagon's count. During his four tours of duty in Iraq, Kyle earned two Silver Stars and five Bronze Stars with Valor.
He had two nicknames, The Legend and The Devil, you can probably guess which was given to him by his military brothers and which was given to him by his enemies. Kyle survived four tours of duty only to be murdered two years ago by fellow veteran, Eddie Routh, a 25-year-old Marine with PTSD.
The tone of the film is set early, with the first scene, as a matter of fact. We're first introduced to Kyle as he's sitting on a rooftop, watching over his brothers-in-arms. As soldiers go door-to-door, checking homes, Kyle sees a little boy and presumably the boy's mother, who hands the boy a bomb. Nobody else sees this, so Kyle has to make the decision to shoot the boy and women on his own. Kyle justifies this, and many more, kills by claiming he has to do it to protect his brothers.
The movie jumps around, following Kyle in various warzones, including the one at home with his wife Taya, played masterfully by Sienna Miller. When he's at home, he's riddled with the guilt of not protecting his brothers. When he's at war, he's being hunted, and hunting, an elusive Syrian named Mustafa (Sammy Sheik).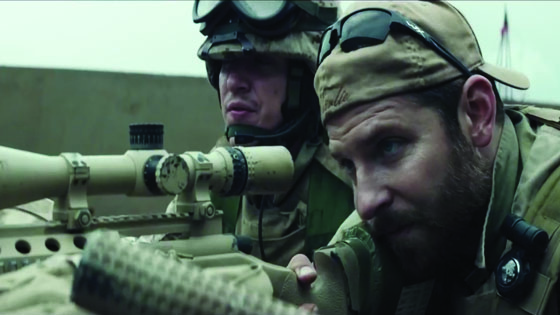 I learned more about Kyle from one magazine article I found online than I did this movie. The portrayal of Kyle by Cooper might be accurate for people who knew him, but for viewers, we're given a man who is an emotionless, killing machine. And from what I've read about Kyle, I don't believe that's who he was. There was more to the man that the film, for some reason, didn't portray.
The real star of the movie is Miller. Being the wife of a soldier must be one of the hardest occupations in the world and she delivers all the highs (the courtship and childbirth) and lows (the pain and fear of not being able to relate to the man she loves) perfectly, giving one of the best performances all year. There's a scene when Miller finds out the sex of the couple's first born. She's joyfully telling her husband over the phone when all of sudden his convoy comes under enemy fire….while he's still on the phone with her. There's a rollercoaster of emotions in that scene (joy, shock, fear) and Miller makes every single one of them believable.
I had high hopes for this film because there aren't many by Eastwood that I haven't loved, I even enjoyed this summer's Jersey Boys. But I think he played it safe here, and it leaves the audience wanting more. Hopefully this inspires audiences to, like me, go out and learn more about one of the deadliest U.S. snipers.