Mira Nair's biopic of groundbreaking aviator Amelia Earhart has many components working in its favor. It's got Oscar-winner Hilary Swank in the title role, supporting performances from Richard Gere and Ewan McGregor, cinematography that ranges from elegant to breathtaking, and a really thorough sense of time and place. And yet it never quite pulls itself together.
The film is competent and solid but there's little consequence. It suffers from the same problem Michael Mann's "Public Enemies" did earlier this year, in that it exchanges what could have been a gripping examination of an historical figure for a stylistic retelling of key events in said figure's life.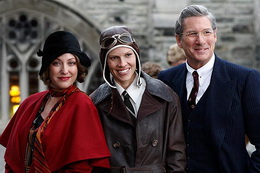 While the level of detachment in "Public Enemies" was reasonable considering its central character's line of work and its director's brand of storytelling, "Amelia" lacks these excuses and unwisely keeps the viewer at arm's length.
The screenplay (by Ron Bass and Anna Hamilton Phelan) glosses over the entire formative period of Earhart's life and tries to compensate for this by giving us poetic tidbits about the glory of flight in Swank's voice-over narration. This isn't wholly ineffective, but it's a far cry from the resonance that would've been added had Nair and her writers shown us the development of Earhart's passion for aeronautics from its infancy to its fullest realization.
What keeps things emotionally afloat is Amelia's romance with George Putnam (Gere). It's an honest, loving, imperfect relationship and while their exchanges as written are never anything profound, the two actors are good enough to smooth things over with a lot of sincerity. That's not to say the dialogue is jarringly awful; it's just somewhat stilted at times. Ewan McGregor has a nice turn as Eugene Vidal, the West Point pilot instructor with whom Earhart had a small affair – the details of which are left fairly ambiguous and whose repercussions are almost void.
Stuart Dryburgh's cinematography is actually really impressive, capturing transcendent aerial views of planes immersed in cloudscapes hovering over mountain ranges and beneath the expanse of the firmament, but it's hard to tell how much of that is justly attributable to him and not the art, special effects and visual effects departments. There's a nice variety to the ground visuals, though, as Earhart travels around the globe, flying above jungles and deserts and sojourning in various locations.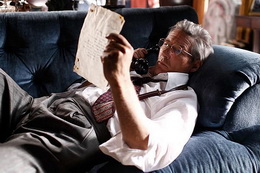 All in all, the technical excellence of the film doesn't serve a greater emotional purpose. The performances are strong, the relationships are well established, and the filmmaking itself is pretty impressive.
But I never really got to know Amelia. She mentions her father's alcoholism in passing and we can infer that this stimulates her fervent desire to escape in some way, but it's not enough to justify what was ultimately a self-destructive way of life. Because of this disconnect, we are only impacted by Amelia's fate vicariously through her husband, George Putnam, and never on our own terms.
For a film that has little problem with sentimentality, it should've dug deeper in its story and relied less on sweeping orchestrations to affect its audience.