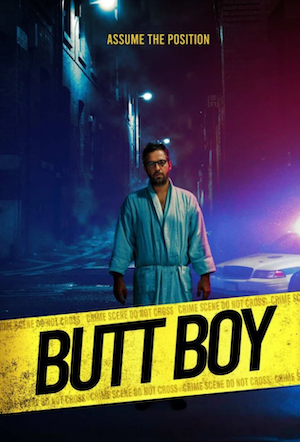 [Rating: Minor Rock Fist Up]
What's your kink? Do you remember when you developed it? Whether we acknowledge it or not, we all have one. Most think of something sexual, but sometimes it takes something common to set that behavior in motion.
For Chip (director/co-writer/star Tyler Cornack), his kink is discovered after a trip for a routine prostate exam. Butt Boy starts off very typical: a bored computer guy, leading a boring life, in a lifeless marriage with his presumed cuckolding wife (Shelby Dash). After his exam, things start disappearing (including a missing child), the story takes a sharp and unusual twist.

That was just the intro. The turn transport us almost a decade later where Chip is an Alcoholics Anonymous sponsor for detective Russell Fox (Tyler Rice), who personifies every stereotypical characteristic of what a movie cop looks like. When another child goes missing and Fox is assigned the case, their worlds collide in every way, kink and all.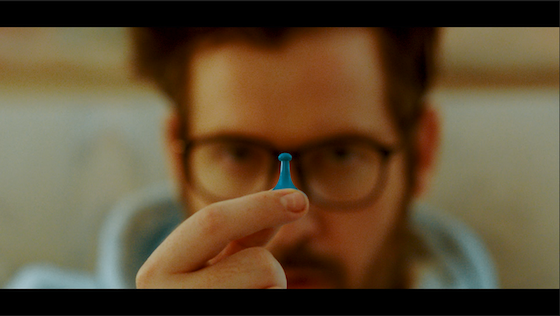 To put it simply, this movie is a trip. It takes itself seriously to the levels of a pulp fiction novel. It's hard not to think that the joke is on us. Cornack and co-writer Ryan Koch gives us a cinematic view of sketch comedy that will have you wondering what you've gotten yourself into watching this. Cornack sees this as the antithesis to a movie like Airplane! "where the characters find themselves in a very serious situation, but it's filled with jokes. Butt Boy is the opposite. The premise is the joke itself and it plays it straight all the way until the end." The only joke is the Rick character, who plays Chip's boss. He's definitely inspired by Office Space and it shows.

In the end (groan), Cornack takes us on a dark trip to a place we've never been before. What he delivers is a memorable but not perfect movie that entertains while making you scratch your head. This is a great film for the Fantastic Fest audience and those who love twisted humor.