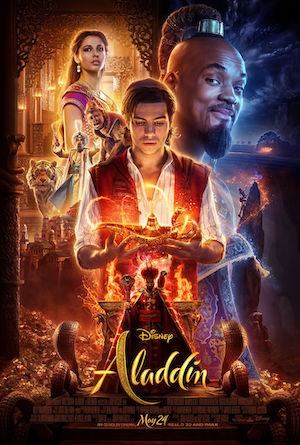 [Rating: Minor Rock Fist Up]

I'm not gonna lie — I have actually been looking forward to a live action movie about the tales of Aladdin and his magic lamp since I was a kid. The animated flick, which came out when I was in high school is still one of my all-time favorite Disney animated flicks.
Now, Disney is hellbent on injecting life into movies they made years ago, so as far as live action remakes go, Aladdin is solid thanks to great chemistry and performances from (most of) the cast, even if it never does anything new with the material.
What we get is a pretty straight forward adaptation with Aladdin (Mena Massoud) a thief and street rat in Agrabah who has a meet cute with a girl he believes to be a handmaid to the Princess but learns she's actually Jasmine herself (played by Naomi Scott). Now because of stupid rules, they can't get married cuz he's not royalty.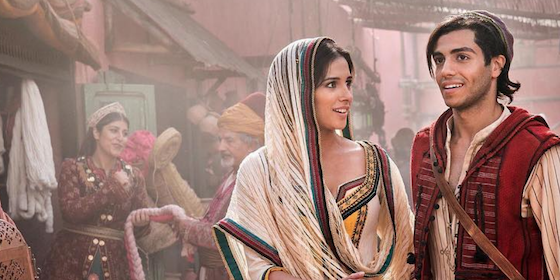 Conveniently, there's this snaky little dude Jafar (Marwan Kenzari) who tricks Aladdin into breaking into the Cave of Wonders to steal a magic lamp, which contains the genie who grants him three wishes — am I spoiling this because I feel like it's almost literally the oldest story in the book?
The leads work. Massoud and Scott have great chemistry. But of course, the real show stoppers are the musical numbers. Featuring a collection of some of the more memorable sing along jams, the ones you love all get fun, energetic and faithful upgrades with some wildly over the top Bollywood type fun thrown in for good measure.
One of the most questionable decisions was the casting of Will Smith as the Genie. After all, Robin Williams' take in the original is iconic but Smith makes this work. He's never forced to try and literally recreate Williams' performance but he does his own thing with it while remaining true to the inspiration.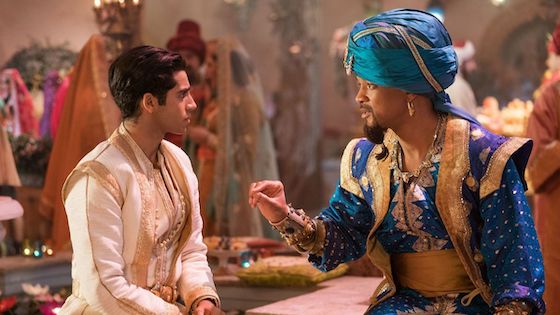 As far as what doesn't work, it really starts with Jafar, who has been wildly miscast. It's really not a knock on Kenzari's talent, he just never feels right for the part. Jafar is arguably one of the most famous villains from Disney's catalog and this dude just isn't sinister enough. The movie runs long, adding a few songs added most likely from the Broadway Musical, but genrally overstaying its welcome during the overly drawn out climax.
Guy Ritchie still an odd choice for this. He handles the material well without getting in his own way trying to force his over stylized action in. There are only a few moments during the movie when it seems like he's having a hard time controlling himself. Honestly this movie is freaking Oscar material compared to his last outing, King Arthur. But the movie is pretty straightforward, clearly on the Disney directive to not color outside the lines, which works for and sometimes against the enjoyment level of the flick.
All in all, this version of Aladdin might be about as much as we can expect from most of these unnecessary live action recreations of classic animated films by the boys and girls at the House of Mouse. But they're clearly not trying to break the mold and they do deliver a fun movie that fans will appreciate. For me, it's enough to quench that childhood dream of seeing Aladdin flying across the screen on his magic carpet.