For all the fans out there still reeling from the fallout and disappointment caused by the profoundly unsatisfying "Star Wars" prequels let me quell your fears… this isn't that.
Remember kids, George Lucas' name is attached to both franchises, but at the end of the day these are Stephen Spielberg movies. Sure, Lucas wrote the story and obviously his paws are in the mix, but Steve has always known how to wrangle his Indiana Jones partner and "Indiana Jones and the Kingdom of the Crystal Skull" is no different. Frankly, it's just further proof that if Spielberg had directed any of the "Star Wars" prequels, there would be at least one less smudge on Lucas' now somewhat-tarnished legacy.
For me personally, it was exhilarating to be back inside another Indiana Jones adventure. It may take audiences a few minutes to remember that it was the action/adventure matinee serials of the 30s and 40s that inspired Lucas to create Indy in the first place. It is that highly stylized concept that has always given Lucas and Spielberg full license to go for all of the over-the-top gags and stunts, and melodramatic dialogue and plot moves they can think of in each Indy flick.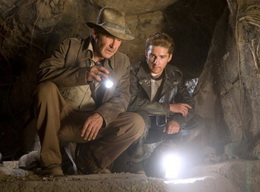 In spite of an over-reliance on CGI, and on studio over location shots in "Crystal Skull," Spielberg manages to put us right back in step with the welcome world of Indiana Jones. It's hard to deny that the first three films benefit from great location work and live creepy-crawlies. Real snakes, bugs, and rats trump computer inventions any day. Lets face it, if the "Star Wars" prequels had relied on the same technology that was available for "The Empire Strikes Back," they would most certainly have turned out better. Lucas has been responsible for funding and developing some of the best new tricks in modern filmmaking, but his projects always seem to suffer from "necessity" taking a back seat to "infinite possibility" in the process of invention.
Lucas did make one undeniably brilliant move with this script though, he set the story in the late 50s. It not only explains why Jones is 20 years older, but it allows Lucas' to show off his love for the "American Graffiti" era, with period-appropriate references in the first act like drag racing fast cars, spontaneous brawls between the greasers and the preppies, and Shia LaBeouf's Mutt Williams character dressed head-to-motorcycle in a spot-on homage to Marlon Brando in "The Wild One."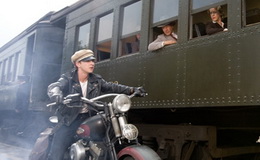 Honestly, I enjoyed "Crystal Skull" so much that, just to make sure I wasn't going too easy on the film, I went back and watched "Raiders of the Lost Ark." It made me appreciate even more the savvy choice to bring back Marion Ravenwood (Karen Allen) from the first film. The acceptable script for "Crystal Skull" plays the continuation of those two characters beautifully, and it's great to see Karen Allen again who's been quietly but steadily working since her film debut in "Animal House" in 1978. I must admit though I miss the Sallah character played by John Rhys-Davies in "Raiders" and "Indiana Jones and the Last Crusade," and I did have my hopes up for a cameo from Henry Jones Sr (Sean Connery). I'm sorry to disappoint, but no dice.
Then there's the big question… Does Indy age well? Sure, Harrison Ford is older. The irony is that the story reflects the age difference, but the gags and stunts don't. The second we see Ford on screen as Jones it's all over. He's still the coolest guy in movies – he's still the only Han Solo, and the only Indiana Jones.
That said, Shia LaBeouf just keeps proving why he's a mega star. There are a scant few young actors who can go toe-to-toe with Harrison Ford in that legendary get-up and come off with that level of presence and charisma, LaBeouf is definitely one of them. While I hope Steve and George have the good sense to let the franchise rest with the dignity it more than retains with "Crystal Skull," if they do decided to "pass the hat" so to speak, to a younger someone else, LaBeouf has more than proven they already have the man for the job.
It's a tall order to come back after 20 years to a beloved franchise and turn out a picture that fans will adore anywhere near as much as the earlier works. "Crystal Skull" is far from a perfect film, but it's not a disappointment and for most fans that'll be good enough.