Click here for my Sundance interview with director Greg Mottola.
First things first: Although "Adventureland" is written and directed by Greg Mottola—who directed "Superbad"—it is not the same kind of over-the-top comedy as that movie (which was written by Seth Rogen and Evan Goldberg). If you go in expecting "Superbad II," like most people this weekend will thanks to the film's marketing campaign, it may take a while to adjust to the movie's pacing and subtle characterizations. But don't worry—"Adventureland" is a terrific film all by itself.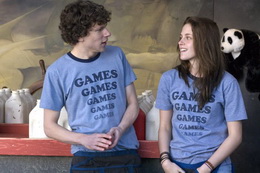 There is one comparative line to draw here, however. Mottola's semi-autobiographical movie feels like what might have happened the year that the "Freaks and Geeks" came home from college. Mottola directed six episodes of Judd Apatow's TV show "Undeclared," a college-aged follow-up to the now-classic-but-canceled "Freaks and Geeks." Like Apatow, he has an uncanny ability to find the natural rhythm of uncomfortable exchanges between emotionally unsure people.
Those moments are at the heart of this touching and seemingly effortless film, which finds James Brennan (Jesse Eisenberg) spending the summer after college graduation at his parents' house in a Pittsburgh suburb. "Adventureland" explores the last gasp of James' old life and the transition to adulthood. (It's fitting that The Replacements' ode to aimlessness, "Bastards of Young," opens the movie.) He's desperate to grow up, but his progress is stopped in time when he's forced to work a shitty job at a rundown amusement park.
The year is 1987, presumably because Mottola's own experiences also coincide with this time period, but the setting also gives the film a simultaneously innocent and nostalgic vibe. The theme park becomes the meeting place for all James' friends, including romantic interest Em (Kristen Stewart)—also home from college—who has a similar attitude towards the summer job and has lived through her own recent personal tragedy.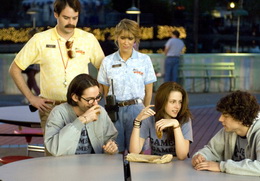 Everybody who works at Adventureland is stuck in neutral, from the socially awkward and increasingly bitter Russian literature student Joel (Martin Starr), to Connell (Ryan Reynolds), the married maintenance guy who regularly cheats on his wife. There's also Lisa P. (Margarita Levieva), the well-endowed trendy girl that all the guys fantasize about, and the married couple (Bill Hader and Kristen Wiig) that run the park from a trailer with a quiet, forced pride.
The hierarchies of high school are always in play. Lisa P. is at the top of the heap, one of the lucky ride operators, while James is pegged as more of a "games guy." Connell is the older cool guy, having supposedly once "jammed with Lou Reed." He's one part Matthew McConaughey from "Dazed and Confused," while also trying to set himself above the younger employees by referring to them as "kids." Of course, James looks up to Connell. Reynolds is perfectly cast, playing a sad, older version of some of his past roles. If "Van Wilder" is still around in his early thirties, he's probably banging high school chicks in his Mom's basement.
Mottola's direction is assured and impressively naturalistic for a teen-oriented comedy. He cuts through the cliches and expresses the longing that most movies of this ilk couldn't find with a compass. He also has a way with his actors, getting subtle performances out of all of them (even the usually 'bigger' talents of Saturday Night Live's Wiig and Hader). Eisenberg (who also starred as an introspective young talker in "The Squid and the Whale") brings a Woody Allen-type neurotic touch to James, who's goal of saving his virginity for the right girl isn't so much a conscious choice as it is an extension of his idealism. Em, on the other hand, is way beyond that, redirecting all her confusion and self-pity from her crappy homelife into a hollow secret relationship.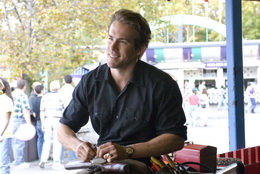 You can see the conflict in their romance coming a mile away, but that's not a criticism at all. In a more formulaic movie, that inevitable "blow-up" moment can leave you feeling cheated if the film has done nothing to foreshadow the characters' actions. In "Adventureland," you empathize with Jesse and Em even when they make poor choices. It's a sign of how much they mean to each other that they can't quite communicate it.
This brings up another great element of Mottola's script: There are no "bad guys." There are just three-dimensional people who sometimes do stupid things. This goes for Jesse and Em as much as it does for the characters that draw them apart (who, in turn, also have their sympathetic moments). You'd think he'd have learned more about women in college, but when he's with Em, James immediately starts talking about how his heart was broken recently in a knee-jerk play for sympathy or maybe a misguided attempt at showing maturity. He's also kind of a pompous egghead who feels like he has to prattle on about Shakespeare in order to impress. It's impossible, though, to hate him or anybody else in "Adventureland."
Although the dialogue is right on for the time period and very funny (As much fun as it was, that's a kind of realism that can't be said about "Juno."), Mottola is also quite adept at letting a lack of dialogue speak loudly as well. In one telling scene, Em gives James a ride home and pops in a cassette. Without saying a word, the two glance at each other, the windows, the stereo, and the floor. The scene is certainly about their mutual attraction and curiosity, but it's also about status. What's unspoken is that Em is feeling out James' musical tastes. As they both try to pretend nothing is going on, James makes his move, reaching for the volume knob to turn it up. A connection is made. (The song is Husker Du's "Don't Want to Know if You're Lonely" and is one of many great tunes on the soundtrack.)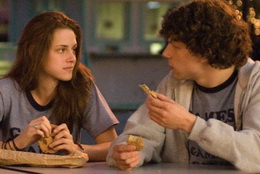 Music plays a big part of "Adventureland." A key moment of self-confidence and realization for James comes from seeing someone he looked up to getting a song title wrong. A little detail like that calls the person out as a fraud. And while awful 80s one-hit-wonders like "Rock Me Amadeus" play ad nauseum at the park, Mottola doesn't dress everybody in the movie with outlandish 1980s clothes and use the setting as a crutch for cheap jokes. He's more interested in getting it right. The movie has its moments of fun with the 80s, but it doesn't dwell on them.
"Adventureland" captures perfectly that feeling of weightlessness just before impending adulthood. At once a personal and generational film, it also carries a poetic kind of melancholy that's unique to movies of its kind, save for maybe "Say Anything" or "Dazed and Confused."
This point loomed heavy in my mind after a second viewing of the movie: When somebody throws up in "Adventureland" (In a movie populated by rollercoasters and drinking, that's kind of a given), it's not presented as a big gross-out laugh like it would be in a more obvious comedy. Instead, it's just something that happens. People throw up. And, like the messiness of life—someone is going to have to clean it up.