I have a theory, and of course I may be wrong, but it's this: Hollywood loves to make "The Will to Live" movies. Examples: Gravity, Life of Pi, 127 Hours and now for 2018, Adrift, another in this line of films about people stranded without a hope's chance to live, and yet, through some rush of adrenaline, a chance to make their near-death journey have a successful ending. Adrift (directed by Baltasar Kormakur) joins this group of films, but unfortunately never really sticks it to be a memorable experience on the high seas with Shailene Woodley and Sam Claflin as two stranded lovers.
Adrift tells the true story of Tami Oldham (Woodley) and Richard Sharp (Clafin) who, in the early 80s, set off to deliver a sailing ship almost four thousand miles from Tahiti to San Diego. Along their journey however, they sail right through a massive hurricane without much warning and are lead off course for 41 days with a damaged boat, little food, little water and only a prayers chance to reach the nearest land, Hawaii before time runs out. Tami, the only member of the two who isn't injured, helps care for her fiancee Richard in any way she can, in the hopes that they both can survive the desolate Pacific Ocean.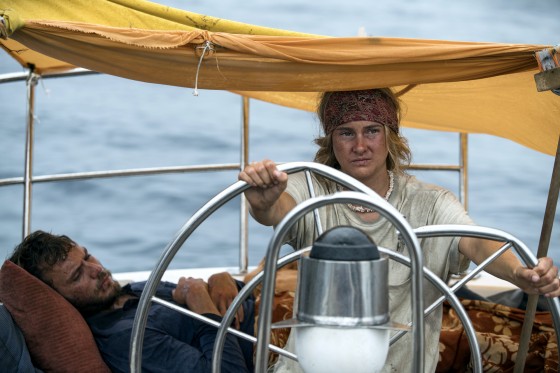 For the most part, I enjoyed Adrift which is actually saying a lot. I went into this expecting a shipwreck of a movie but came out mildly enjoying it. That's not to say I'll remember this one in a few years but I digress. When it's good it's good. In particular, the moments of the journey leading up to the hurricane are terrific. We get a good sense of the romance that blossomed between Oldham and Sharp and get to see them work together to survive the inhuman waves that would put them in peril and change their lives forever. I liked the committed performance Woodley gives in this. A lot of her persona she gives off in roles feels the same to me a lot, but as a woman who rebuilds the boat by herself and even fishes for the two of them, she does a lot of strong work here.
The stuff that didn't work, is most likely why I won't remember this movie. That includes the narrative flashing back and flashing forward and back again to show how the boat capsized. It's too much, it's done too often and after the first few times, it loses its edge. I just want to see how the boat went under with this monstrous wave and how somebody could survive that. Another major point, is the entire plot twist that comes with this movie. I want so badly to report on it, but I can't as there is a handy device called Google where one can actually read articles on the true story this film is inspired by.
Adrift really lacks some sort of emotional oomph to it. I feel at odds for saying that even if there's a typical love story floating around all over the place, but I never really connected to that. I cared more if this was a survivalist story, half the length, half the dialogue but all the action and desperation these two have to survive. Adrift comes from a long line of survival films, but is lost sadly through familiar territory I think many have seen before. The performances are good but at the cost of a cheap Hollywood plot twist, it is barely enough to save it.