In this age of procedural crime dramas like "CSI" and "Law & Order: Endless Spinoff Unit," it's surprising that "The X-Files: I Want to Believe" chucks all that out the window and is content to rely almost solely on the same faith vs. science debate that Fox Mulder (David Duchovny) and Dana Scully (Gillian Anderson) had for seven seasons on the popular TV show.
It is a welcome treat to see the actors inhabit their old characters, and their considerable charm goes a long way towards making "I Want to Believe" bearable while the mystery plot stays stagnant for almost an hour. What is amazing—and flies in the face of most conventions of the mystery genre—is that once Mulder and Scully are convinced out of retirement by two battling FBI agents (Amanda Peet and Xzibit, who represent the retired agents' beliefs, only with their sexes reversed)—they do absolutely nothing to advance the case.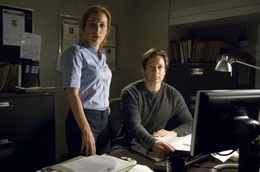 It was the constant push and pull of Mulder and Scully's differing belief systems that made "The X-Files" better than your average TV show. This quality is what ultimately draws the characters so close together. But simply having them stand around and debate the validity of a psychic (Billy Connolly, who plays a Catholic priest who diddled young boys and now bleeds out of his eyes and has visions of an agent's abduction.) while the mystery creeps forward slowly without them is not exactly seat-of-your-pants suspense.
Scully is saddled with a lame hospital subplot about a terminal young patient she is treating, and she doesn't want to believe that the boy-raping priest could be sending her a message about her intention to save him. Mulder wants to believe that his unique perspective is good for something other than clipping out newspaper stories and posting them on the wall with thumbtacks, which is really lame "crazy guy" shorthand. (Who still does that anyway? Hasn't he heard of the Internet? It seems that his particular supernatural obsessions would be better served by a whole web community of like-minded people, not whatever random article he can relate to in the local daily.)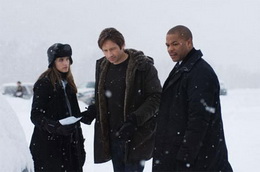 When the mystery does finally unfold, it's weird and disturbing for sure, but it's also mildly offensive. (If gay rights activists were pissed off about the gay serial killer in "Silence of the Lambs," they're going to really be unhappy with series creator and movie writer/director Chris Carter after this one.) Peet and Xzibit's agents are completely sidelined after being completely wasted for the entire film and the final showdown is absolutely devoid of suspense.
Now the good. Mulder and Scully may be the one of the most interesting couples in mainstream TV. Despite being in a relationship (I'm trying real hard not to reveal spoilers), they still call themselves by their last names as if there was still a need for that formality. The actors have a palpable chemistry and their scenes together are effective, despite the fact that their general outlook remains exactly the same as it was six years ago when the TV show ended.
People don't change. I get that. For the purpose of an entertaining movie, however, it would have been nice if "The X-Files: I Want to Believe" had changed a little while it was onscreen. It seems like an old-fashioned, tacked-on, carelessly thrown together TV reunion episode, not the exciting franchise reboot I was hoping for.