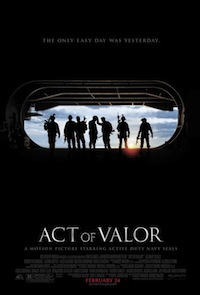 There are essentially three ways to look at Act Of Valor, but no matter which way you choose to view the movie, you're likely to be disappointed.
The movie, which is co-directed by first-time motion picture directors Mike McCoy and Scott Waugh, has a couple of claims to fame that the advertisements have promoted heavily: the characters are portrayed by active-duty Navy SEALs and the combat scenarios are based on real SEAL missions.
Unfortunately, while the SEALs are some of our bravest warriors, capable of great precision and courage under fire, as actors, they deliver their lines with about as much believability as high school acting students. And they shouldn't be expected to do more than that.
They are, after all, the world's deadliest soldiers, not the world's most gifted thespians and to their credit, the action sequences are executed with all of the poise and expertise the dramatic scenes in between lack.
But when the action gets popping, McCoy and Waugh are far too eager to skimp on the precision in favor of cheap camera work that makes the movie feel less like the love note to our troops that it wants to be and more like a sub-standard military shooter. During every major action sequence — and nowhere else in Act Of Valor — the camera slips into first-person perspective, essentially parodying the same video games that undermine soldiers' lives by making death a minor inconvenience.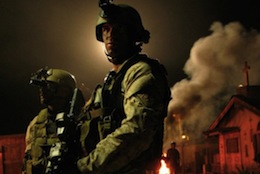 Ignoring the poor performances and the action that is too eager to slip into excessiveness, the movie's plot is executed equally as poorly, regardless of how much of it is based on real missions (a loose claim in the promotional materials).
The drama that takes place in between missions is clunky even without the wooden actors. In the opening minutes, we're treated to an overt voiceover that lays out some half-boiled philosophy about a code of honor before thrusting us into a terrorist plot that seems better suited for an old season of 24.
Taken as a movie, Act Of Valor is too flawed and clumsy to emotionally uplifting or inspiring. As a "you are there" or "ripped from the headlines" type of movie, it quickly and willingly abandons its own adherence to realism in favor of bigger explosions or exploitative camerawork.
And as a tribute to the troops, it manages to get its point across, but fails to do the kind of justice worthy of the SEALs. To it's credit, it avoids slipping into jingoistic trash, but doesn't do much more than that.