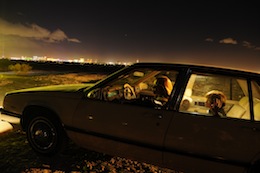 Newly released to video on demand and other digital platforms March 19th is About Sunny a deeply emotional film that relies far more on the spaces between the action than on tightly structured plot.
Angela (Lauren Ambrose), a low-income, single mother in Las Vegas, struggles to care for her daughter, Sunny (Audrey P. Scott). A coworker, Max (Dylan Baker), and his sister, Louise (Penelope Ann Miller), take a strong interest in Sunny after they attend the young girl's eighth birthday party. When Angela loses her job, Louise's interest becomes more pointed.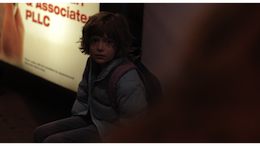 There are couple more plot points that put additional pressure on Angela's situation, but that brief synopsis sums up most of the story.
This is not a film about a carefully structured narrative. It is an emotional exploration of a young woman, who can hardly take care of herself let alone an eight-year-old child.
The success of About Sunny rests on the shoulders of writer/director Bryan Wizemann and actress Lauren Ambrose.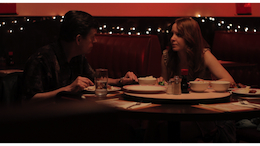 Ambrose is restrained as she explores Angela's despair. It is with the utmost maturity as an actress that Amborse treats Angela's situation as something common to the character. There are very few explosive outbursts, and only a few more quiet sobs. Angela is not new to financial and emotional difficulties and Ambrose has the insight to treat the character that way.
About Sunny could have been a well lit, overwrought exploration of the strength of a struggling mother, but Wizemann smartly removes the sentimental to make way for a richer emotional experience. Every choice or mistake that Angela goes through builds tension and elicits more questions. It is impossible not to wonder what might have happened had another path been chosen, but then you are forced to also question what options were really available.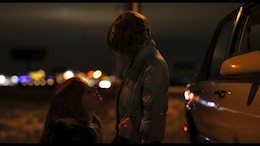 The approach to lighting and the way the film is shot reinforces the lack of sentimentality while accentuating the troubled introspection. Most of the film takes place at night and is filled with shots that place the dominant light sources behind the characters. This silhouetting flattens the character and removes their expressiveness, while also making them a dark presence in the frame. It is an interesting approach that is employed to great affect.
It has it flaws, specifically in the script and plotting, but that all takes a back seat, since About Sunny focuses on exploring an emotional moment in time when an impoverished young mother is surrounded by her own crushing financial and psychological isolation.
If you want something emotionally moving and different than a lot of American films being made, then you should spend an evening with About Sunny.