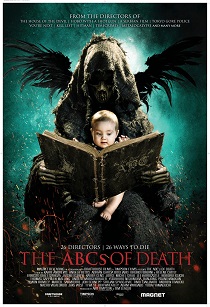 "Wow! Good luck with that one."
These where the first words out of the mouth of my best friend, when the credits started rolling on the new horror anthology The ABCs of Death. I know exactly what he was getting at. I've watched some really crazy horror films with that guy, and for awhile I had no idea where to even begin. How do you write a review about a movie that's not really a movie?
The ABCs of Death is a compilation of short films from 26 different directors, each assigned a letter of the alphabet. They were each given free reign to to choose any word they wanted beginning with that letter, and tasked with making a short film about death. The result is wildly uneven in presentation, tone, and even commitment to the basic assignment on a couple of occasions. It has no main characters, no connective plot between the pieces, and ultimately is nothing more than a self-contained, themed, short film festival.
It's also ambitious, shocking, gory, legitimately unsettling at times, and laugh-out-loud funny more than once. Or, in simpler terms, everything I'm looking for in my horror films. So in honor of it's unconventional style, here's my unconventional review.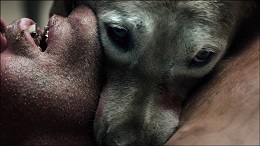 The ABCs of The ABCs of Death, abbreviated edition.
A is for All-Stars. Underground horror buffs or fans of Asian Gore are sure to recognize some of the filmmakers who contributed pieces to this very strange, bloody pie. Jason Eisner (Hobo with a Shotgun), Noboru Iguchi (The Machine Girl), Yoshihiro Nishimura (Tokyo Gore Police), Banjong Pisanthanakun (Shutter), Jon Schnepp (Metalocalypse, The Venture Bros.), Jake West (Doghouse), Ti West (The Innkeepers, The House of the Devil), Adam Wingard (V/H/S), and Yudai Yamaguchi (Meatball Machine) all directed segments. In truth, if you haven't enjoyed least one or more of the above projects, you are probably not the target audience for The ABCs of Death.
B is for Breakneck. Blasting through 26 shorts around two hours, ABCs doesn't have room for filler. The stories told here are short, often abstract, and come at you quickly.
C is for Crazy. This movie brings it in spades. Letter A starts off with a bang and it just keeps getting stranger. By the time you make it to letter Z, and think you've seen it all, it goes to a whole new level you'll never see coming. If you're the type of person who kind of likes it when a movie makes you say, "What the hell did I just watch?" ABCs just may be up your alley.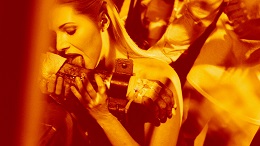 D is for Disturbing. There are parts of the movie that are hard to watch. I was reminded of the feeling I had the first time I watched Rob Zombie's The Devil's Rejects. A general uneasiness in your gut, where your natural inclination is to look away, but you just can't. I've always believed that's when a horror film is really getting it right.
G is for Gore. Buckets of blood. Just tons of it, everywhere, flowing like a river of Karo syrup and food coloring.
H is for High Points. It should come as no surprise in a compilation this large, but it doesn't all work all the time. Thankfully, the fast pace of the film makes it kinda like an old line about Kansas weather, "If you don't like it, give it a few minutes, it'll change," but there are moments that will linger with you long after the film has ended, both good and bad.
O is for Offensive. This movie is not for everyone. Animal cruelty, sexual sadism, infanticide, violence against women — this movies pushes boundaries. If you're at all squeamish,  do yourself a favor and skip this one.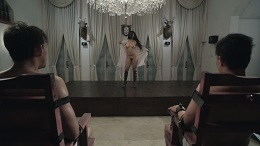 P is for "Pick the Word." As much as I love movies and believe in supporting theaters, part of the fun of this film was watching it with a couple of friends and trying to figure out what the word was going to be at the end of each segment. It's like a really violent version of charades. Some of them we got right, and others weren't even close. It almost turned every short into it's own little mystery, as you try to figure out where the director is going with the insanity unfolding in front of you. If you've got a group, it may be worth watching On Demand at home rather than a theater.
V is for Verdict. I give The ABCs of Death a Minor Rock Fist Up. It's not without it's problems and it's certainly not for everyone, but I enjoyed myself. I appreciate films with grand ambitions, even if the execution comes up short at times. The ABCs of Death falls squarely in that category, but it falls from 50 stories up, leaves one hell of bloodstain on the sidewalk where it landed, and has everyone on the block gathered around to watch the mayhem unfold.
The ABCs of Death is on VOD now and opens March 8 at the Alamo Drafthouse Mainstreet and Screenland Armour — as well as the Screenland Crossroads on March 15.