Well folks, it's that time of the year: Oscar season! The greatest time of the year for film lovers, as some of the best films that you have been hearing about from festival to festival, finally make their way into your local cinema.
One such film opening in Kansas City this week, is Battle of the Sexes from Jonathan Dayton and Valerie Faris, the team behind the smash hit, Little Miss Sunshine. The film is sure to delight audiences as a triumphant victory in your typical biopic fashion, but, what will resonate most with audiences is the subject that in today's political climate, seems all too familiar again.
Battle of the Sexes tells the story of Billie Jean King (Emma Stone) and Bobby Riggs (Steve Carell) when in 1973, they battled it out on the tennis court after Riggs challenged any woman to a match, with the intention to prove women did not belong on the court. The film effectively shows off the match as if you were watching it on television that very same day, giving us the standard biopic montage of Riggs being the "male chauvinist pig" he set himself out to be and a young King, a champion of equality and the doubts she had in facing her opponent. The real story here however, is King's personal life off the court.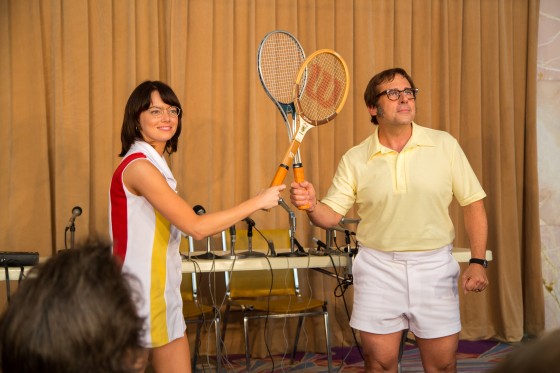 Exploring King's personal life with both her husband Larry King (Austin Stowell) and her personal hairdresser and lover Marilyn Barnett (Andrea Riseborough) is such a delicate situation but the film handles it very well. We get to see King explore her sexuality with Marilyn that eventually would change her life. In these moments, Stone is giving her best work. It's the quiet intimate scenes when she just stares with an awkward girlish smile at Barnett that struck me. For King, these moments help lift her spirits to play to the best of her abilities. It's a questionable time in the 1970s for anyone, let alone a woman who is in such a large spotlight, to explore a new and almost forbidden relationship outside the one she already has. The film explores King's sexuality in a very nuanced way and I feel it goes against the typical male gaze cliche and instead gives us an entirely different feel to King.
Of course, the film is not without flaws. It plays pretty much on the nose on what will happen next. You expect pretty much every scene that is going to take place and that makes the stakes of the battle a little bit lower because the film makes you think, "If Billie doesn't win, this is a sham!" There's an entire chunk of the movie pre-battle that I sat there waiting and waiting for at least a montage of King practicing, but instead you get a Riggs montage. Now, I don't know if this was anybody's intention, but Riggs is a one-dimensional character. He's typical, he's used for comic relief that gets a bit overdone, and his story arc doesn't feel like it has a nice ending to it after the battle. Sure, he's given his gambling addiction thing to go off of, but it is slowly forgotten just like his wife.  Poor Priscilla (Elisabeth Shue) seems to come and go without ever giving her own feelings to the battle. And to think she had to live with the man! Carell is a wonderful actor as we have seen lately, but Riggs is swept under when he could have provided a lot more.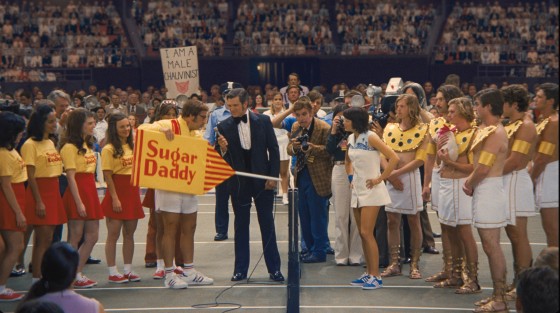 The film covers the all-too-obvious fact that women are not treated the same as men in sports, a fact still relevant today. King is a hero to the feminist movement of the 1970s, and her ultimate win against Riggs, was a celebration. I appreciated the fact the film was structured around King more than anybody else because this is her story and her story alone. King is one of the most celebrated players of tennis and through her legacy, she has gone on to create the Philadelphia Freedoms, a tennis organization where men and women play equally. This film, though terribly basic in its approach, does a good job in displaying King's victory in the most important tennis match ever 44 years later.