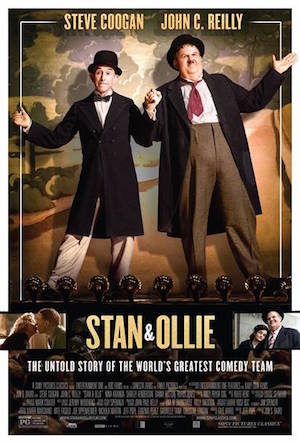 [Rating: Solid Rock Fist Up] 

There's a scene in Stan & Ollie, where Stan Laurel (Steve Coogan) looks up at a large mural of he and Oliver Hardy's Hollywood successors, Abbott and Costello. Whether it's Abbott and Costello, Lemmon and Matthau, or Key and Peele, most comedy duos can trace their slapstick comedy origins back to Laurel and Hardy.
The Classic Hollywood duo ruled the screens from the late 1920s to the mid-1940s with their jesting routines that played off Laurel's quiet but gauche demeanor contrasting Hardy's haughty and often hurt dominant counter. Stan & Ollie examines their partnership, on and off camera, and shows that the magic went further than what audiences saw on the screen.
The biopic begins in the summer of 1937, when the pair are on top of the world, filming their famous dance scene from Way Out West (which is performed flawlessly). The majority of the film focuses on their European tour in the early 1950s in the twilight of their career, where they play to limited audiences in small, second rate theaters and stay in bellboy-less hotels after being retired for years.
As their tour continues, the film focuses more on their personal relationship than on their on-screen/on-stage personas. There are comedic bits in their everyday routines but there's also signs of division, jealousy, and the effects of Father Time catching up with them.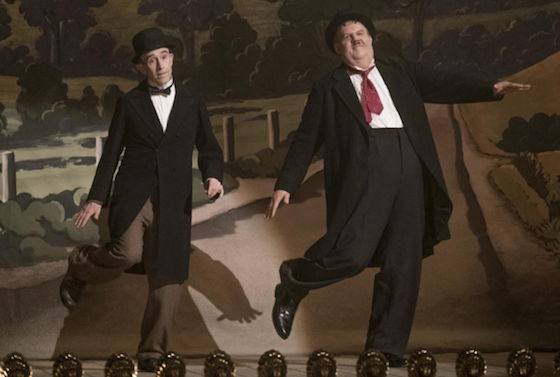 The performances, just like most Laurel and Hardy films, are centered on the two exceptional leads. Steve Coogan resembles the more vocal, sketch-writing Laurel in his subtle eye movements, voice, and the familiar scratching of the head. In similar fashion, John C. Reilly's looks, humor, and timing is synonymous with the real, more frivolous Hardy. Their individual off-screen comedic timings are impeccable. Every time Stan calls Ollie "Babe" it will warm your heart. Their partnership is endearing but their bond is shown to be exceptional.
The interactions between the couple's wives, the dictatorial, stoic Ida Laurel (Nina Arianda) and the mousy-voiced, but strong-willed Lucille Hardy (Shirley Henderson) are quick quipped, spiteful, and equally entertaining. There's good casting all around, as far as looks go. There's also spectacular makeup, especially on Reilly's Oliver Hardy in his later years.
The script by Jeff Pope (Philomena) is excellent. There are scenes of the pair at their highest and lowest points in their difficult friendship. The theme throughout the film shows the camaraderie of being partners, put together by theatrical happenstance, that familiarity that builds, and continuing on to becoming friends for the rest of their days. It shows that sometimes friends argue about life choices and don't get along but, in the end, a true bond endures. Director Jon S. Baird's movie endearing film does a great job at expressing this, especially when Laurel and Hardy are not at the pinnacle of their careers.
As much as much as Laurel and Hardy were funny, the true dynamic was the relationship between Stan and Ollie. While not just sketches and laughs, this film does a tremendous job of showing the true duo throughout their lives together.
Today's Word of the Day: parvenu