Will Ferrell may have made a career out of playing caricatured man-child characters who don't want to grow up, but the kind of sweetly stunted misfits who live in the real world (where you have to pay rent, get a job, and grow old) don't quite look like Ferrell.
In the Humboldt Park area of Chicago, they look like the twenty- and thirtysomethings that populate a non-sports-league-affiliated adult kickball group where the players run to first base while trying not to spill their beer.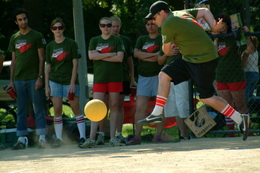 The stars of director Ben Steger's new documentary "Left Field" (playing at the Kansas International Film Festival on Thursday and Spencer Museum of Art in Lawrence on Saturday) are recovering drug addicts, musicians, artists, bartenders, bike mechanics, bowling alley engineers, and other barflies who never grew up to appreciate the 40-hour work week.
By glimpsing the life stories of a select number of kickballers, Steger posits that there might be more to their tight-knit community than merely suspended adolescence. Are they philosophical journeymen (and women) searching for more out of adulthood than the constricting template of getting married and raising a family? Or are they simply putting off the cold, hard slap in the face that comes with middle age?
When KC Haywood and Sarah Hart first moved from New Mexico, they were worried about meeting people in the big urban sprawl of Chicago. A friend told them to come by and check out the hard-partying kickball league she had formed. Soon the couple had their own team—the Fighting Cocks—and were crowned king and queen of the annual Kickball Prom in 2006.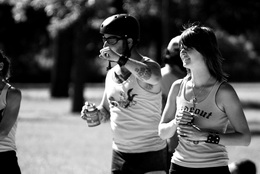 There is a certain fascination in watching pure, idealistic notions get tripped up in execution, so the loosely-paced movie finds more footing as rivals and teammates start to develop their own viewpoints of what the league should be about. Good old-fashioned American competitiveness begins to trump the ironic detachment of non-athletic punk-rock adults playing a child's game, and the league begins to mirror the dilemma of the little underground band that just got discovered by a mainstream audience.
As it attracts more teams into another season, Steger expands the film's reach and offers up more people from all sides of the league. The conflict gives the film a bit more shape, but it also forces the original cast of characters somewhat into the background.
If this all sounds like a good idea for a short film, that's because it was originally intended as one. But just as "Left Field" starts to feel like its spinning its wheels, a completely random tragedy strikes the group, and it's how they react that propels the film into its elevating final act.
What may be the most telling takeaway from "Left Field" is the humanity that's brewing just under the surface of its subjects. In interviews, the kickballers do much to celebrate their own non-conformity, but its how they come together as adults that gives the film its biggest victory.
"Left Field" shows Thursday, September 24 at 5:20pm at the Kansas International Film Festival (Glenwood Arts Theater, 9575 Metcalf) and is screening for free on Saturday, September 26th at 2:00pm at the Spencer Museum of Art (1301 Mississippi St.) in Lawrence, KS.