As early as junior high, you learn in English class to make your thesis statement obvious. That way the reader gets the point quickly and clearly, and your teacher can grade it easier.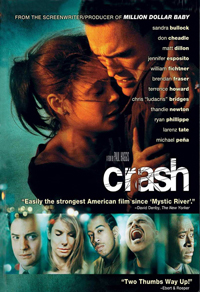 In Paul Haggis' overwrought and overrated Best Picture nominee Crash, Don Cheadle delivers an opening salvo so artificial and faux-poetic that it even contains the film's title.
"We're always behind this metal and glass. It's the sense of touch," Cheadle's self-important Los Angeles police detective says, sitting in a car with his partner/girlfriend, Ria (Jennifer Esposito). "I think we miss that touch so much that we crash into each other just so we can feel something."
And so begins the most unjustly inflated and grandiose lecture on race relations since a puffed-up Spencer Tracy sermonized Sidney Poitier in the self-righteous and misguided Guess Who's Coming to Dinner?
This is a re-examination of Crash, a movie I saw last year in the theater, but didn't review. It's had so much awards hype since then and gained a huge audience on DVD, that I watched it again last week to make sure I still hated it.
And I did — with even more focus.
Don Cheadle is at a murder scene in the City of Angels, on Christmas, the holiest of all Christian days. That is the first of many cruel ironies Paul Haggis uncomfortably hoists upon the audience time and time again. When we discover who the victim is at the end of Crash, it is the last straw in a series of contrived and telegraphed coincidences so brazen that they have passed the realm of preposterousness and entered into self-parody.
Haggis' approach is simple. Give us a set of expectations (Two young African-Americans, Larenz Tate and Chris 'Ludacris' Bridges, argue eloquently about white people judging them as criminals from their skin color) and then upend them. (They proceed to hold up a rich white couple, exemplifying the cliché they've just been complaining about.) Put them in a situation where they have to rethink their own behavior, and end with either tragedy or redemption, oppositely tuned to what the audience wants to see happen. Repeat 10 more times.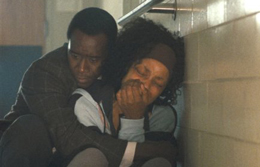 A melting pot of simmering hatred, the film's inhabitants are both equal opportunity offenders and victims. Almost every character, be they of white, black, Latino, Asian, or Middle Eastern descent, shits on someone else and is, in turn, shat on. No ugly stone is left unturned and rarely is a positive one touched. To make a grim situation truly insulting , their motivations are completely manufactured.
The people in Haggis' version of L.A. all engage in openly racist behavior, and every crucial decision is informed by racism or because of racist actions against that person. This one single theme, bashed into your skull throughout, is what makes Crash maddening, tiring, and finally, ridiculous.
Unlike Spike Lee's infinitely wiser and more thought-provoking Do the Right Thing, Crash is a public scolding disguised as entertainment with 'social value,' where people don't behave like actual people, but instead they exist only to prove Haggis' point. It is a constant source of conflict that everybody is stereotyped by everybody else, but the characters themselves are all stereotypes.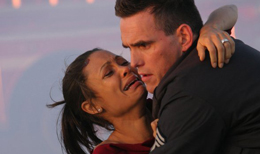 There are better far modern vignette-based movies set in Los Angeles (Short Cuts, Magnolia) that showcase complex characters with recognizably individual traits, and don't behave like representations of people that are determined by whatever philosophy the screenwriter needs them to represent.
Rarely has a movie been so arrogantly obvious about its intentions, as every character engages in deliberately poor choices, while we sit comfortably, fully aware of the dreadful consequences. Add a nasty tone and a foreboding score, and there are more idiotic yell-at-the-screen moments ("Don't go in there!") than a teenage slasher film. This gives us, the audience, an air of superiority.
I am convinced that the movies' tidiness is the main reason so many moviegoers like Crash. Real people are more mysterious, ambiguous, they don't follow simple cause/effect patterns, they act inexplicably. It's not the idea behind Crash that's so offensive, but it's the way that that idea presented — as the ultimate argument settler.
Racism and mistrust are gray issues that affect everyone, but by the end, Haggis paints them in efficient black-and-whites. Everyone learns their lesson and we're all better people now. It's not that simple. That conceit insults the complexity of the human psyche, comforting us with the pompous notion that we've witnessed, once and for all, the solution to a never-ending struggle.