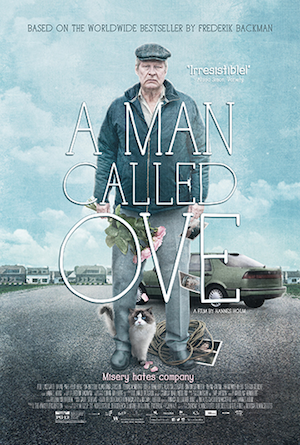 [Rating: Rock Fist Way Up]

People talk about the dreary Pacific Northwest as the depression capitol of the world, but if by no other measure than cinema, the Scandinavians have everyone else beat to hell. Resolute, sturdy, and seemingly indestructible in the face of the elements, both of nature and man, films from Sweden, Finland, Norway, and Iceland often concern themselves with a lone individual and their quiet suffering. Director Hannes Holm goes back to this well with A Man Called Ove (Swedish: En man som heter Ove), yet crafts a film that succeeds in delving beyond the genre's surface to explore what is involved in the long-term dismantling of a soul.
Rolf Lassgård stars as the film's eponymous character, who at 59 is blissfully done with the world, the people in it, and everything it has to offer. The former president of his Swedish condo community, about the only thing that brings Ove any pleasure is the surly business of checking up on his neighbors and taking notes on the various HOA violations he witnesses during his daily "rounds." A slave to order, to the rules, Ove bristles at any real or perceived deviation from the proper state of the universe as he understands it. He argues with cashiers over the vague wording of coupons, he screams at his neighbors for their pets' transgressions, and shakes his fist at reckless drivers.
Yet beneath this calcified, hardened bastard-shell, dashes of humanity occasionally ooze through the cracks. Indeed, the way Ove talks to his wife's tombstone during his daily cemetery visits speaks to a reservoir of compassion buried deep inside the man. Revealed during thoughtfully conceived flashbacks, there is a history to Ove that is more complex than the stock curmudgeon trope a lazier movie would have relied upon. A Man Called Ove transitions seamlessly between the present and Ove's past to open the man's life up, and to inform its audience exactly how Ove came to be. Unlike other grumpy-old-man-finds-a-heart movies such as St. Vincent, Grand Torino, or Finding Forrester, Holm's movie is entirely invested in the exploration of Ove rather than those he inevitably opens up to. It's a bold choice, as it demands that the audience go along for the ride with a salty protagonist, yet it demonstrates the film's confidence in its story, which is beautiful and crushing all at once.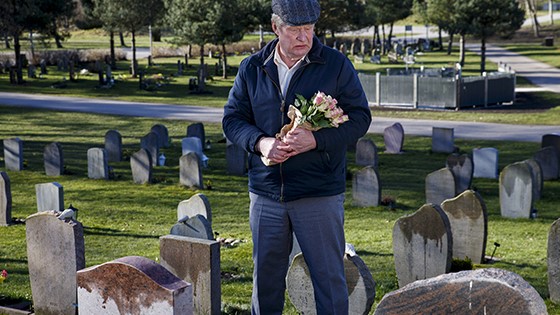 As the movie progresses, Ove bounces between recollections of life-altering moments and the drama that unspools with the arrival of new neighbors across the street. From the passing of his mother, and then his father, but most especially, to Ove's encounter with his soulmate, Sonja (Ida Engvoll), a tangible mixture of pain, sorrow, awkwardness, and ultimately a sense of belonging form to complete a picture of an individual who's struggling not just with neighbors, but his past and sense of self. Watching all of this, one gets the sense that Ove was always destined to be something of an odd duck, yet the love of an amazing woman many years ago salvaged the man. Sadly, Sonja's passing put Ove back on track to a cloistered, bitter life, yet as the flashbacks demonstrate, Ove is salvageable.
Despite his best efforts to avoid just such a relationship, Ove finds another person willing to take a chance on him in his new neighbor, Parvaneh (Bahar Pars). Despite all evidence to the contrary, Parveaneh is convinced that Ove isn't all that bad, and along with her husband and two daughters, she begins to break through the old man's defenses. As A Man Called Ove bounces back and forth between the past and present, a remarkable thing happens: the audience begins to sympathize and relate to the title character. Grumpy, gruff, and about as friendly as a cactus, Ove cares about people and holds to an unshakable code of what is "right." With Sonja's help, Ove finds redemption in both the past and present via another compassionate woman willing to take a chance on him, and accept him for who he is: warts and all.
The script and Holm's direction do a masterful job pulling this together in a believable way that feels organic and familiar, and makes a person feel terrible for any time they wrote off a bitter person without a second thought. Most poignantly, A Man Called Ove hints at a universal condition many will face if they are unlucky enough to reach old age alone and in a world that has seemingly passed them by. With time, it feels like Ove could be any one of us, and the ease with which we as the audience slip into the man's shoes speaks to the journey Holm's film takes. Redemption and validation come cheaply when purchased through the eyes of outsiders (again, check out a movie like St. Vincent for this), yet is infinitely more touching when earned through an exclusive understanding of the curmudgeon in question.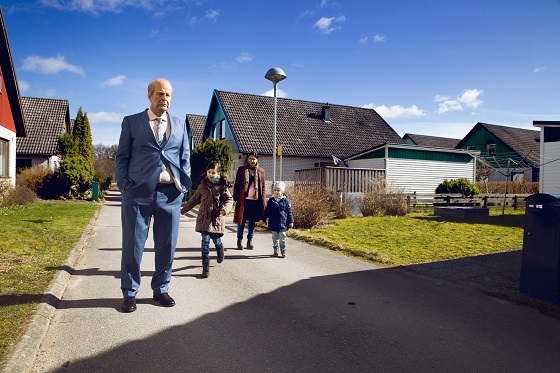 And while a lingering sadness permeates the picture, the overriding theme is arguably a mixture of hope and compassion. Time and again, Ove is reminded of how good, kind, and empathetic his beloved Sonja was. This is important, for just as she had while alive, her very presence in Ove's existence, even in death, is enough to allow the man's humanity to shine through. Likewise, Parvaneh's willingness to take a chance on Ove reveals a world of possibilities for the man, and encourages the better aspects of his admittedly quirky personality to emerge.
Based on Fredrik Backman's novel of the same name, A Man Called Ove is the story of a man who might just as easily have fallen between life's cracks were it not for the compassion of strangers willing to take a chance on the guy. As is shown in the present and past, this is a chance that was worth taking, for despite his rough exterior, Ove has a lot to offer the world in his own idiosyncratic way. Ove might not fit in everywhere, but where he does, he's indispensable. The journey towards this revelation is beautiful, depressing, inspiring, and very, very much worth the trip.