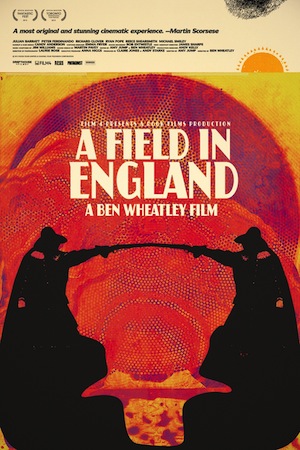 One of the first visionary works of 2014 hits theaters today. A Field in England is about five men who search for a buried treasure. If you enjoyed Gravity, not only for its stunning visuals, but also for its multilayered storyline, then you might enjoy Ben Wheatley's psychedelic allegory.
The central characters are deserters from the English Civil War. These men, a drunkard, a servant, a simpleton, a coward and an alchemist, spend the entire film in one field. Before you run away from thoughts of impending boredom, let me assure that A Field in England is many things, but boring it is not.
The stunning black and white photography adds a crisps contrast and definition to Wheatley's masterful compositions. Each frame of this film is beautiful on its own from the rippling tall grass, its shadows waving as the wind forces the stalks into peaks and valleys, to the intense close ups of the dirty faces of the men full of fear, avarice, and regret.
In the edit, Wheatley and cowriter, coeditor Amy Jump build a far deeper story than one of deserters looking for buried gold. By folding shots in on themselves, quick stroboscopic cuts that seem to shake the screen, and thoughtful juxtaposition of repeated imagery Wheatley and Jump also explore a deeper philosophical ground.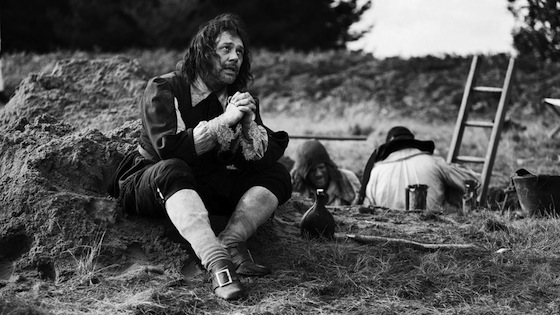 The filmmakers scrutinize the greed that drives men to violence, the naivety that pulls people in and destroys them, the cowardice of blind devotion, and the strength that comes from becoming one's own self.
With not one but two proclaimed alchemists on screen, one might expect a little magic or some razzle-dazzle. There is some of this, but the moments are subtle and ambiguous. It is just as possible that the events were imagined or the result of a grand coincidence as they were born of the alchemist Whitehead (Reece Shearsmith). This ambiguity makes room for amazing things to happen while still allowing for distinct similarities between the onscreen world and our own.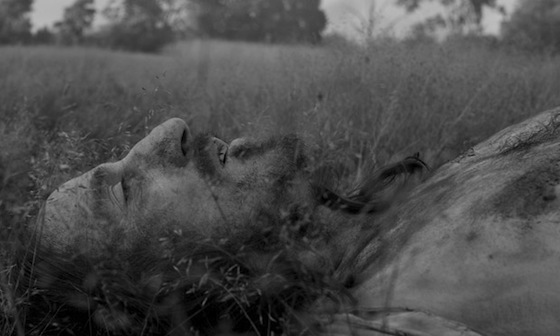 Most of the special effects employed by Wheatley are almost as old as filmmaking itself, and yet when used with intent, and thoughtful control a well timed cut, an unexpected montage, or reversing the footage can still work wonders on the minds of the audience.
A fascinating and challenging film, A Field in England is well worth your time.