This is truly the worst type of film to review. "88 Minutes" is neither the worst film I've ever seen, nor is it in any way notable, remarkable, or original. This movie is why some critics use a rating system that allows them to call this what it is…a rent-it-on-DVD-some-sad-lonely-night-out-of-boredom-or-sheer-desperation movie. Or better yet, it's one for those onr of those movie benders you go on – renting dozens of films to pass the time – while you're heavily drugged and cooped up at home deep in the belly of wicked sickness.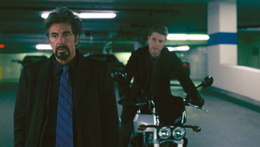 The "88 Minutes" premise is simple. Jack Gramm (Al Pacino) is a big-time forensic psychologist in Seattle who has a long and storied career studying the who's-who of serial killers. Gramm's testimony in a case against "the Seattle Slayer," Jon Forster (Neal McDonough), led to his conviction and eventual sentence to death row. On the day of Forster's scheduled execution, the crimes start up again exactly like before and Gramm receives the first of many phone calls informing him – beginning of course with 88 – of the number of minutes he has left to live. The rest is a series of fairly predictable and sometimes unresolved red herrings and multiple failed attempts to mislead you into an ounce of suspense.
You know what I've honestly had just about enough of? Films that rely exclusively on their foundational device. "16 Blocks," "88 Minutes," etc. What's next? "42 Floors" or maybe "772 Steps?" "88 Minutes" obviously uses the age-old time pressure device. I'm not going to say it doesn't work sometimes quite well, and at various times throughout this film – it does it's job adequately – but this device can't hold up the entire picture on its own. There must be some substance guiding the characters and plot.
The same goes for relying on your lead actor or actress to pull a fricking Houdini and escape a flawed script right in front of your very eyes. Our hero Al is kicking it classic Pacino-style and it works here, but he can't prop up the light blocking curtain of holes in the screenplay or render the sophomoric dialogue more interesting than it is. Lately, Pacino is as likely to serve up a performance that borders precariously on self-parody (for instance "Scent of a Woman" or "Any Given Sunday") than turn in an old-school acting clinic, but here, in the wrong movie, he's steady as the storm.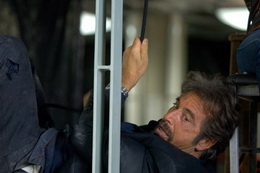 Can't we get just one more "Dog Day Afternoon" out of Al, please…M. Night, P.T.A., Wes Anderson, anyone…?
Unfortunately, I can't say anything uplifting regarding Pacino's costars Leelee Sobieski ("Eyes Wide Shut") and Alicia Witt ("The Upside of Anger"), both of whom give performances which are less than impressive, with both clearly suffering substantially from the hideous dialogue they're delivering. "Judging Amy" star Amy Brenneman is the only cast member who can hold their own in scenes with Pacino's massive persona.
Director Jon Avnet knows something about good stories. He directed "Fried Green Tomatoes," an excellent film with a superb and well crafted storyline. I can't say the same for the author of this mess. "88 Minutes" screenwriter Gary Scott Thompson's resume tells a pretty interesting story, his credits shed more than a little light on "88's" dismal script. Thompson is responsible for the screenplays for "The Fast and the Furious" as well as "2 Fast 2 Furious" and get this…"Hollow Man" I and II. I didn't even know there was a "Hollow Man II," which thankfully means I'm only able to imagine the horror. I wish I could say the same for "88 Minutes."