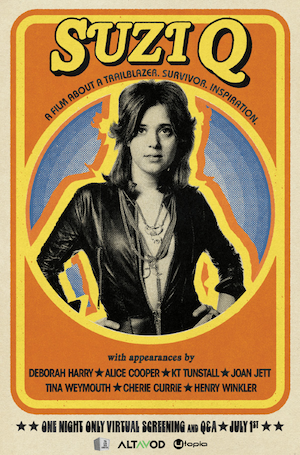 [Rating: Swiss Fist]
Australian filmmakers Liam Firmager and Tait Brady have crafted a love letter to the should've-been-huge American glam rock queen, Suzi Quatro. Entitled Suzi Q, the documentary (out on DVD and VOD from Utopia on July 3) claims to be "the definitive, unexpurgated story of the girl from Detroit City who redefined the role and image of women in rock'n roll when she broke through around the world in 1973."
Kind of? If nothing else, Firmager and Brady have crafted a doc which tells the story of a rock 'n' roller who, despite her worldwide success, never made it in the one place which meant the most to her. Quatro's music was massive in Australia, Japan, the UK, and all over Europe, but here in the States, she's probably best known for her seven episodes on Happy Days as Leather Tuscadero.
The film, thankfully, digs all the way back into the bass player's earliest days, playing with her sisters as part of the Pleasure Seekers and later, Cradle during the '60s, and how that led to her slowly coming to the forefront, and helping establish the band as part of the Detroit music scene which was exploding at the time, alongside the likes of then-locals like Alice Cooper.
Alice Cooper would later take Suzi Quatro out as an opener for several tours, and appears in Suzi Q quite a bit, notably pointing to the fact that she was the first one he thought of when booking the Welcome to My Nightmare tour, because of her talent and energy. That, actually, is one of the more interesting aspects of the documentary, wherein there are a good many of Quatro's contemporaries featured – The Runaways and Blondie, especially, are well-represented – and express their admiration for the titular musician's talent, the documentary never really sinks its teeth into why she never broke through in the States.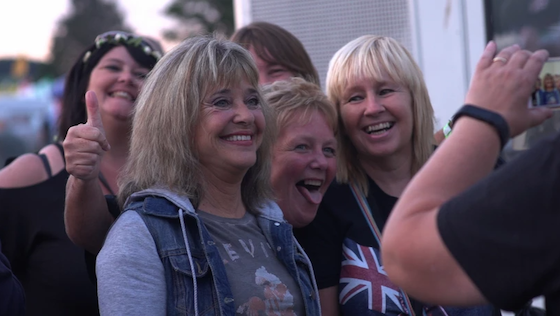 It's certainly touched on, especially in conjunction with The Runaways, who also never quite broke through to the big time, but the particulars behind the record execs or the DJs or anything like that never gets examined in any detail. The film is a very nice, shiny document, loaded with quality contemporaneous live footage from all eras of Quatro's career, and the bassist and singer certainly gets a chance to speak on her own behalf, but it all comes across as very surface-level analysis. Her sisters get into a little bit when Quatro gets offered a solo contract, while Cradle doesn't, but emotions never seem to find their way into this story being told.
Interestingly enough, there are snippets of Quatro writing poems and reading them as interstitial pieces throughout Suzi Q's runtime, but they're never directly addressed. It seems as though those poems are the real emotional response to everything which has happened over the duration of Quatro's career over the last 50+ years, but they're left to stand on their own, and never interogated as part of the complete narrative.
All that said, Liam Firmager and Tait Brady's Suzi Q is going to appeal to a slew of viewers. They definitely make a case for Suzi Quatro's talent and why her stature among '70s rockers needs to be raised up. If they're a little facile in the execution – along with failing to look more closely at her influence on the current crop of musicians out there – it still doesn't stop Suzi Q from being entertaining.