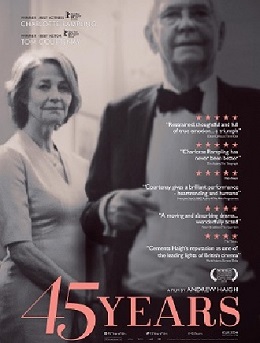 [Solid Rock Fist Up]
If a person's character really is the grand assembly of past experiences, interactions, and relationships, how does one recover from the sudden reveal that the last forty-five years have been tainted by a long-running ruse?
That's the struggle of Kate Mercer (Charlotte Rampling) in 45 Years, an almost Raymond Carver-esque exploration of the enduring yet brittle nature of love. It takes about five minutes for director Andrew Haigh to put his audience right into the story's central dilemma, one that lingers through to the last frame. Kate's husband, Geoff (Tom Courtenay), receives a letter informing him that his old girlfriend's body has been found. She'd fallen into a Swiss crevasse roughly fifty years earlier during a hike with Geoff and another man, and while Kate knew of the incident, she finds herself taken aback at how deeply the news of the body's discovery affects her husband.
Although his and Kate's 45th wedding anniversary looms just days away, Geoff is consumed by the sudden development. Through conversation, it's established that bypass surgery a handful of years before slowed the man, yet Kate (and the audience) can't help but to notice how energized Geoff is when investigating details about "my Katya," as he calls his old flame. Kate is supportive, and makes it clear that she understands Geoff's grief and is there for him, yet as the days pass, her husband's distant attitude and aloof nature only harden. By turns, new details tumble out of Geoff regarding the trip, along with his relationship with Katya: all of which gets Kate wondering if the last forty-five years of her life have been the result of one man's reluctant emotional compromise.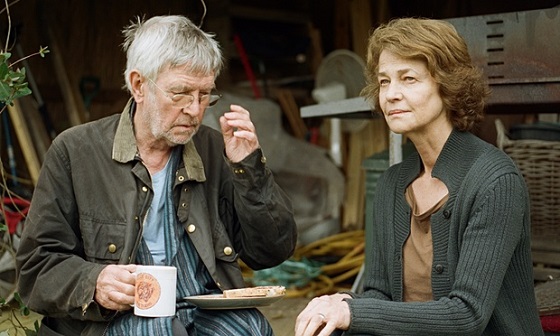 The setting of the picture is almost its own character, for this is a decidedly British film. Pink Floyd said that, "hanging on in quiet desperation is the English way," and that's certainly on display in 45 Years. Kate and Geoff have no children, and are pretty thoroughly removed from their neighbors on their Norfolk farm. Although Kate has friends, and the large anniversary party she's organizing is a testament to her good standing in the community, there's a palpable sense of isolation for the woman. The Brits are notorious for their ability to "get on with it" in the face of adversity, for internalizing any emotion and carrying on without a fuss. With a gathering of all their acquaintances just days away, Kate keeps up her British resolve, and doesn't allow her emotions out of confinement.
But the pain pulls at her, there's no question about that, and this grief is the axle upon which the entire movie turns. Rampling nabbed a Best Actress Oscar nomination for her work in this picture, and watching her wince ever so slightly at every new development that broadens her understanding of Geoff's passionate love of Katya, the accolade feels entirely justifiable. The crux of the dilemma in 45 Years is the fact that Geoff didn't cheat on Kate in the traditional sense, as his relationship with Katya died when she did, and that was roughly five years before he'd even met Kate. Yet betrayal takes a number of forms, including the invisible. As the film moves on, Kate begins to realize that many of the things that she thought were special, and exclusive to her, are actually just shadows of a relationship that pre-dated her. Kate's hair, physique, even her name: all harken back to Katya, who looms over a marriage that is only days away from a grand celebration.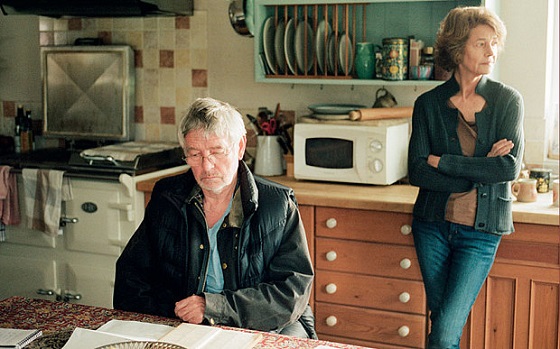 This last component is especially striking. Kate is doing the heavy lifting for the big anniversary party, and as she's forced to trudge through trifling details like the venue, song playlists, and things of that sort, one can see a question beginning to form on her face, "what am I celebrating?" Yes, her husband might not have physically cheated on her, but the emotional infidelity cuts no less deep, if only because its presence has festered undetected until the week the couple were meant to celebrate the now-infected union. Again, Rampling carries all of this with a magnificent mix of pain and fortitude, and in a way that doesn't feel remotely showy or overly dramatic.
Courtenay hits all of his marks as well, and does a fantastic job playing up his character's raw emotional turmoil bristling underneath a tired, worn-out body. One gets the sense that even Geoff didn't realize how much his relationship with Katya had affected his life and choices until the letter arrived, and he is having nearly as difficult a time coping with that revelation as his wife. Geoff is at the end of his life, and he knows it, which makes this sudden emotional plunge into his past all the more meaningful for Kate. At a time when they should be looking back on forty-five years together, and celebrating that intimacy, Geoff is instead wholly occupied with Katya.
The only thing missing from all this is a bit more insight into Kate and Geoff's relationship prior to the arrival of the Katya letter. Indeed, the audience only gets a good look at the turmoil the event in question causes with little to gauge how this is different from what came before. At 95 minutes, 45 Years could have used an extra scene or two to establish the dynamic of the marriage before examining the fallout to follow. Even so, the film does a magnificent job showing instead of telling, primarily through the nuanced acting of its leads, and the patient, thoughtful directing of Haigh, who allows furtive glances and grimaces to bind the fragments of his story together. Like a long marriage, 45 Years isn't an easy journey by any means, yet it is one definitely worth taking.