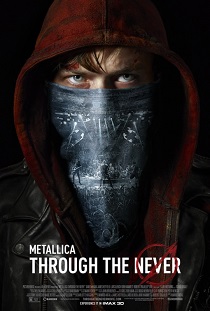 The 3D concert film tends to take place in this weird space where your enjoyment of it lives and dies by your interest in the music. The stepchild of the documentary genre, it is usually full of generic backstage antics or interviews that augment the footage but rarely enlighten or rise above mere fan service.
In Metallica: Through the Never, Metallica and co-writer/director Nimrod Antal (Predators) seek to remedy that by refusing to play by rules of the subgenre, and by abandoning nonfiction for a higher concept far more appropriate to the music.
The first and most marked change between this and the last film to bear Metallica's name, Metallica: Some Kind of Monster, is this film has no interest in Metallica as people. It doesn't care about their hopes or fears or insecurities or their personal lives in general. Beyond a brief, self-aware, dialogue-free introduction for each, the members of Metallica exist in this film only as performers.
And as performers, they let their performance speak for itself as they barrel through an impressive chunk of their well-regarded back catalog.On a technical level, their music has never sounded better. It's well recorded and mixed, and strikes the right balance between the raw and the polished, respectable technical proficiency and alluring, driving immediacy.
Interwoven with the excellent concert footage is a narrative about a roadie (Chronicle star Dane DeHaan) sent on a quest in a surreal, horrific, and quickly deteriorating urban landscape. In a series of unfortunate and escalating events, he finds himself surrounded by rioters facing off against a faceless, oppressive riot squad. That would be bad enough, but a monstrous masked rider has a surplus of nooses he feels would fit the young man just perfectly.
While it doesn't make a lot of sense, or take up a lot of running time on its own, it doesn't need to. It's all about cultivating the kind of atmosphere Metallica and metal bands in general have always embraced. It successfully remains compelling and enhances the darkness and conflict inherent in the music. It also compliments the proceedings back at the concert as well, as things start to go horribly wrong.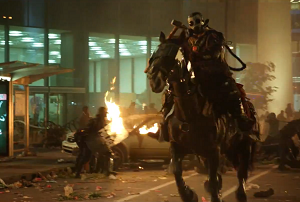 Most impressively, the 3D does not feel like an afterthought. It's clear the film was designed with 3D in mind, and it succeeds in creating a feeling of immersion that should be the goal of every concert film. You can really picture yourself being there, which helps the more horror-centric elements of the narrative segments feel more tense and disturbing.
At 93 minutes, the film doesn't let itself get bogged down. Even if you don't like a song, there's always something interesting to see, and the career spanning, hits-heavy setlist promises that the next song could be the one you forgot you loved. While people who have never liked Metallica probably won't find enough to enjoy, the rest of world, including jaded former fans like myself, will be won over.
Metallica: Through the Never succeeds on every level it sets out to. It's the best possible presentation the band or the fans could have hoped for, and should go a long way to extend their reign as the most prominent metal band in the world.