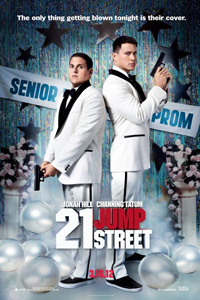 Based on its premise or concept, 21 Jump Street has no right to be anything other than a furtive Hollywood cash-grab.
It plays on the cultural nostalgia that hungers for all things 80s, while employing a narrative vehicle that is part teen sex-comedy and part buddy-cop film.
But if a calculated late winter throwaway is what you were expecting from 21 Jump Street, then prepare for a pleasant and very funny surprise.
The story focuses on the sensitive, awkward and bookish Schimdt (Jonah Hill) and the ruggedly handsome and muscular Jenko (Channing Tatum). Both fostered a clique-driven rivalry in high school, but their differences come in handy when the two team up early on at the police academy.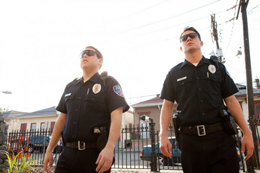 After they earn their guns and badges, the glamour of the police force doesn't quite measure up to their expectations. When they botch a drug bust, Jenko and Schmidt get reassigned to Jump Street, an undercover operation filled with young-looking officers infiltrating high schools.
No one at their assigned school knows their true identities, so Jenko and Schmidt must live by two rules: don't get expelled and don't have sex with students or teachers. With these two stipulations, Jenko and Schmidt are after a supplier of a new synthetic drug.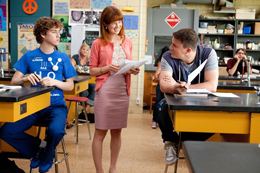 Just like the show, which premiered in 1987, the premise is a bizarre mixture of genres, but writer Michael Bacall (Scott Pilgram vs. the World), who is securing a title for himself as the master of quirky self-referential screen adaptations, keeps the story deceptively simple while weaving in the delightfully absurd.
Directors Phil Lord and Chris Miller juggle the wonderfully grotesque with likeable characters, and push the ludicrous nature of the story to such extremes that the outcome is hilarious. Part of their success in crafting this funny film comes from giving their actors the leeway to go for jokes where they find them.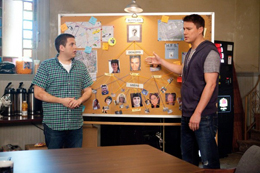 Jonah Hill has shown himself to be a capable comedic actor, equal parts likable and awkward, but the real shock in 21 Jump Street is Channing Tatum. He is smart, funny, and more than capable of keeping up with Hill. The onscreen banter between the two is vibrant and convincing.
An added benefit of Tatum's physical strength is his penchant for physical comedy. One scene has him jumping straight into a metal gong, which looked as unexpected for his supporting actors and it was for the movie-going audience.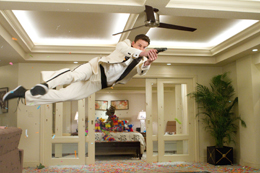 The supporting cast, which includes Brie Larson, Ice Cube, Ellie Kemper, and the ever-delightful Nick Offerman, is great. Rob Riggle's smary and unhinged performance as Mr. Walters is often jaw-droppingly funny, including an ending that had me laugh-crying and looking around in disbelief.
A handful of welcomed and well-placed cameos cement the wink-and-a-nod nature of 21 Jump Street.
The smartest choice that the filmmakers made when crafting 21 Jump Street was to never take their subject too seriously. Though it welcomes its audience to laugh at it, once 21 Jump Street gets you chuckling, it quickly joins in and laughs at itself right along with you.
It's a thoroughly pleasant surprise for lovers of smart, quirky, sometimes vulgar comedies.