In "21," the lastest feature from "Legally Blonde" director Robert Luketic, Jim Sturgess ("Across The Universe") plays Ben Campbell, a genius at M.I.T. who has been accepted to Harvard Medical School, but doesn't know how he's going to pay for it. So, right off the bat the premise is flawed.
I'm going to go out on a limb and say there's probably more than just one movie-magical scholarship for an individual with Ben's abilities and straight-As at M.I.T. "21" is absolutely packed with this type of sloppy, poorly motivated, and- frankly- silly storytelling.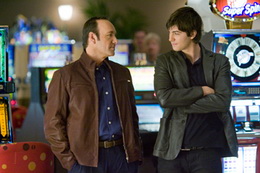 Fortunately for Ben, there's a super-secret-card-counting-squad right there on campus, led by professor Micky Rosa (Kevin Spacey). The team efficiently recruits Ben, despite the fact that he's a reluctant conspirator and card virgin. Ben quickly discovers that winning big comes with a price (insert finger in mouth and make gagging sounds here).
The film is so visually predictable that it at times looks like an unimaginative two-hour long commercial for the city of Las Vegas. The screenwriters never miss an opportunity to toss in a tired phrase eeriely similar to the infamous Vegas tagline "What happens in Vegas, stays in Vegas," only narrowly avoiding the use of that old chesnut in a flurry of similar quips.
The story is inspired by true events which were chronicled in author Ben Mezrich's 2002 book "Bringing Down the House: The Inside Story of Six M.I.T. Students Who Took Vegas for Millions." I admit I haven't read the book, but the worst parts of the film are the ones that feel like overreaching cinematic embellishments. For instance, we get bargain bin manuveurs such as the geeky-boy-gets-unlikely-hot-girl (Kate Bosworth), professor-has-unrealistic-powers-of-influence-at-University, and psuedo-bad-guys (in this case, former card-counter-turned-casino-protector Laurence Fishburne)  with-tragically-trumped-up-character-motivation. (We love our hyphens here at Scene-Stealers.)
Fishburne and his partner are old-school security consultants. It's not enough for them to be interested in catching card-counters who are taking the house for millions; they are trying to prove their relevancy as they struggle against a new "facial-recognition" software that is about to make their services obsolete. This is truly one of the most unnecessary and distracting motivations in recent memory.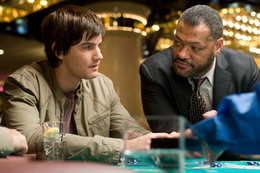 "21" resembles the story arches of good-guys-go-bad-for-a-minute Hollywood classics like "Can't Buy Me Love" in which a young, unpopular but brainy kid, is swept up by happenstance into a situation that instantly brings him all the attention and excitement his old life lacked. He quickly ditches his old friends, taking on a totally new persona and set of cronies, which predictably alienates him from his childhood buddies and his sense of good judgment. These films climax with the main character's redemption, as they realize they've become someone they don't like, and bravely return to being themselves, running into the open arms and forgiveness of the friends they previously shat upon. This one adds a bushel full of Vegas and blackjack, which I'll admit adds a veneer of excitement for awhile, but this film refuses to evalate itself beyond the cliche.
It would appear that "21" is attempting to out-80s every film of that montage-laden decade as it dispenses so many montages that about halfway through the film it becomes positively laughable. What's worse, as the film boldly montages the audience to death, it does so without the slightest hint of humor or irony.
It's easy to imagine that the real life events that inspired "21" could make an amazing film. The basic building blocks for the screenplay may have all been in place, but the end result is one forgettable cliche and overstimulating montage after another.