Post-modern awareness is mixed with an ancient setting in Harold Ramis' "Year One," but somehow most of the humor still manages to be prehistoric. If you've always wanted to see smart comedians revert to grade school hi-jinks for cheap laughs, then this is the movie for you.
Jack Black and Michael Cera star as two early tribesmen who talk like, well, Jack Black and Michael Cera. Black is an ignorant, hulking hunter named Zed and Cera a wimpy gatherer named Oh. A hundred winking "hunter and gatherer" jokes later, Zed eats shiny gold forbidden fruit from a tree, gets kicked out of the tribe, and sets the two off on an adventure. A couple of abruptly cut-off scenes later, the duo are inexplicably hob-knobbing with Cain and Abel.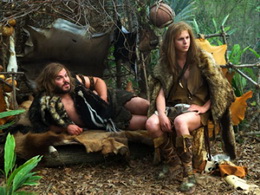 Although there seems to be a lot of gags and some side characters that go nowhere, Ramis no doubt edited many of these early scenes to be as short as possible, thus giving the film a sense that it's actually going somewhere—which it isn't. Since he and co-writers Gene Stupnitsky and Lee Eisenberg (from NBC's "The Office") obviously weren't aspiring anywhere near the satiric heights of Monty Python's Biblical-times spoof "Life of Brian," it's a wonder that "Year One" was made at all. After all, we already have plenty of lowbrow sex jokes in "Caveman" (starring Ringo Starr!) and Mel Brooks' "History of the World Part I."
Both actors do their trademark shtick (Black is a good-natured, hyper horndog, Cera is a mopey deadpan teenager), and sometimes they are able to generate laughs despite the muck they are mired in. Hell, there are even small parts played by Hank Azaria and Oliver Platt in which these character actors throw themselves into sleazy witlessness so eagerly and with such relish, that you can't help but giggle at the absurdity of it all. Then you'll want to immediately take a shower.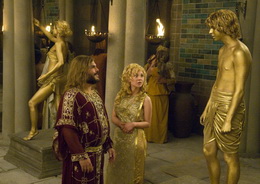 Unfortunately, what "Year One" will probably be known for is for how much comic talent is just completely wasted in the movie. Bill Hader, David Cross, Christopher Mintz-Plasse, Kyle Gass, Paul Scheer, and Paul Rudd generate exactly zero laughs between them, but maybe this point is best exemplified by the fact that Ramis unselfishly steps into one of the film's thankless roles himself. You've got to admire a director whose solidarity with his actors extends that far.
But "Year One" fails because it sets its sights so disappointingly low.
Ramis directed "Groundhog Day," so it's sad to see him wasting his time on such juvenile and retread material. There are a couple jabs at outdated religious superstitions like human sacrifice, but it's all so safe and awfully unfunny. I didn't expect a movie set in this time period to be devoid of crude, gross-out humor, but it's too bad that it has to rely so heavily on it.
Cultural Sidenote: In 1972, Divine eats poop in John Waters' scandalous and unrated "Pink Flamingoes," which garners an NC-17 rating upon re-release. In 2009, Jack Black eats poop in "Year One," and it's so passé, it gets a PG-13. Fun!