Click here for my on-camera interview with Seth Rogen.
If you like your comedy without any sugar or cream then you're at least in the ballpark of people who may appreciate the humor in "Observe and Report," a comedy that is alternately laugh-out-loud shocking and flat-out baffling. A minor character sums up the film nicely when he says about a joke he was in on, "I thought this was going to be funny, but instead it's just kind of sad."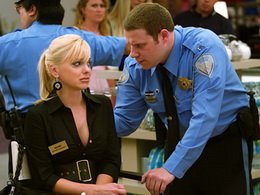 Anyone who's ever seen director Jody Hill's first movie "The Foot Fist Way" or his HBO series "East Bound and Down" (both starring Danny McBride, who makes a cameo here) will have a better idea of what to expect from his new Seth Rogen-led film "Observe and Report."
Hill specializes in a certain type of protagonist—a loud, obnoxious man-child who loves pushing others around, especially those who threaten him. Ronnie Barnhardt (Rogen) fits the bill perfectly. He's a pill-popping, bipolar mall cop who yearns to be a real policeman, mainly so he can carry a gun. (This is about as far as you can get from that PG movie starring Kevin James.) When a streaker starts flashing the ladies in the parking lot—especially blonde make-up countergirl Brandi (an underused Anna Faris), Ronnie feels like catching him is his ticket to the big leagues.
Other freakish over-the-top types float in and out of Ronnie's world in the most haphazard of ways. Michael Peña ("Crash," "World Trade Center") hangs around in the background with a lisp until he's called up for one deviously hilarious montage. Thick-spectacled identical twins John and Matt Yuan have a natural, funny charisma, but have little more to do than add scenery. And I'm pretty sure Jesse Plemons (TV's "Friday Night Lights") played another, lesser mall cop guy, but he didn't have much to do either.
Ray Liotta—as menacing an actor as you'll find—is Detective Harrison. By turns, he is Ronnie's sworn enemy and greatest inspiration. As Ronnie starts to believe he will inevitably be peers with the policeman, though, Harrison resorts to ugliness as well.
"Observe and Report" is refreshing and frustrating in equal measure. The herky-jerky rhythm of the movie suggests that a lot of subplots and introductions were cut in favor of more "funny" and a slimmer running time. (Even at 82 minutes, it sometimes feels a little long.) There are wild mood swings between so many of the scenes and certain plot points are just dropped altogether.
At the same time, Hill is finding his own voice as an original comedic filmmaker, however spotty he may be. Some of his jokes land with a thud once, and some—like Ronnie proclaiming virtually everyone in the mall as guilty at one time or another—are repeat offenders. But the writer/director is also developing his own signature.
One stylistic constant is his frequent use of jump cuts to accentuate punchlines (if you can even call them that) and get out of scenes as quick as possible. Rather than ease the audience out of some of the more reprehensible humor, Hill prefers to cut while everyone is still digesting what happened. More than once during the screening I attended, I could hear astonished gasps just before the laughter.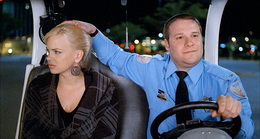 Because the movie has such an odd pace and so many uncomfortable moments, the slo-mo music montages (set to musical oddities such as Little River Band's "Help is on the Way" and a needless cover of Pixies' "Where is my Mind?") actually add some welcome familiarity in terms of movie language, which Hill then packs full of the maximum amount of absurdity possible.
Lastly, we come to the formula of "Observe and Report," which is this: Build a scene up in the most typical way possible and make the audience expect what they usually get. Then, do the exact opposite. Example: Ronnie gets some much-needed consoling from his mother and a shoulder to cry on. This is where the violins come in and Mom is supposed to deliver a few kind words to help her son turn his life around, but when Ronnie asks her what she's trying to say, she replies, "I don't know, I'm drunk."
This formula is also applied to the over-arching plot of the entire film. Nothing works out the way it usually does.
If you're going to have a formula, at least make it one that willfully flees the convention of other films. Hill is throwing out the rulebook on how to make a satisfying movie, but somehow in the midst of the most politically incorrect humor you're likely to find at the multiplex—maybe ever—he and Rogen actually do make the pig-headed and stupid Ronnie someone you can empathize with. Ironically, they do it without seeming to care at all.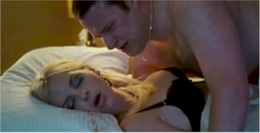 Epilogue: (SPOILERS LIE AHEAD!) Much has been made of the supposed date-rape scene in "Observe and Report." Is it really date rape? Does she actually give consent? The answer to both of those questions could go either way depending on how you view it, but here is what I think is important to consider. In the realm of this movie—which is completely absurd—and knowing what we know about these characters, the scene that's depicted would have gone down exactly the way it did in the film. Brandi may or may not have remembered it, but I guarantee you that she could have cared less either way when she woke up, right or wrong. That's her character. For the record, I gasped out loud during this scene and it stuck with me far after I left the theater. I'm not surprised people are making a big deal about it now. Frankly, I was surprised the MPAA let them keep it in the cut.