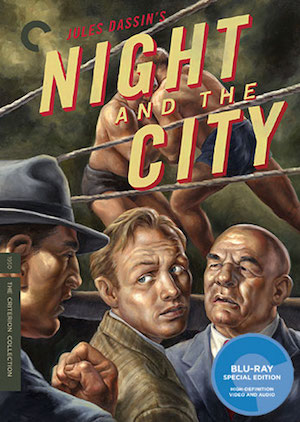 [Rock Fist Way Up]
Freed from the constraints of the mystery genre and having a detective/investigator as a main character, Jules Dassin's 1950 film Night and the City is downward-spiral noir in its purest form, even if it trades the traditional urban landscape of the American city for the mean streets of London.
The Criterion Collection previously released a DVD of this superlative entry in the noir canon in 2004. The audio commentary from DVD Savant editor Glenn Erickson and a 2004 interview with director Jules Dassin are ported over from that edition. This new improved Blu-ray edition not only contains more extras and fantastic new cover at, but a beautiful new digital transfer created in 4K from the 35mm original camera negative. In addition, there are two full versions of Night and the City: One released in the U.K. (and scored by Benjamin Frankel), and the American version (scored by Franz Waxman).
The bleakest form of the film noir genre involves desperation, and that's something that's written all over the face of poor Harry Fabian (Richard Widmark) in Night and the City. An expatriate who's always looking for the next "get-rich-quick scheme," as his girlfriend Mary (Gene Tierney) calls it, Harry has big dreams. "I wanna be somebody," he says.
Harry sees an opening when he witnesses a feud between wrestlers during a match he's attending. He sets himself up as a promoter, pits family members against each other, and takes money from the wife of a nightclub owner who's sweet on him. She's not the only one caught up in Harry's scheming. Mary is used to this and she seems to know exactly how it is going to end. An air of hopelessness hangs over the entire film, and as things begin to unravel for Harry, his normal amount of flailing starts to spiral out of control.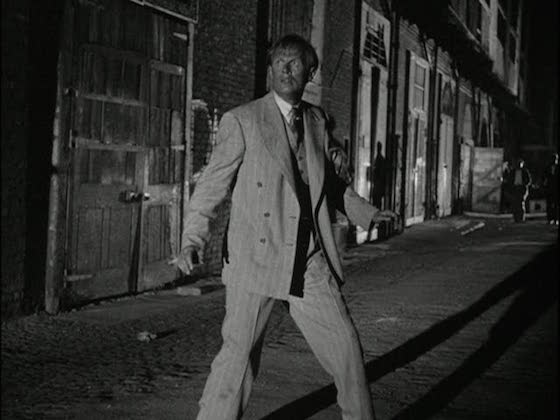 Shot on location in London, Night on the City has a gritty feel, bordering on realism. Sure, there's an abundance of shadows as one would expect, but outside of a couple impressively dramatic crane shots, the black-and-white cinematography doesn't always have an overtly expressionistic tone.
Dassin was pushed off to London by producer Darryl F. Zanuck, who knew that the director was soon to be blacklisted. Night and the City was immediately rushed into production, and as Dassin reveals in his interview, he didn't even have time to read the book by Gerald Kersh. The author apparently wasn't happy with the adaptation for its lack of fidelity to the source material, but make no mistake, this is one of the best noirs around.
Jim Thompson may be the poet laureate of hard-boiled crime fiction, and his best novels go inside the minds of desperate losers just like Harry Fabian. Widmark embodies so many of Thompson's uniquely American protagonists and Night and the City, despite its London setting, feels like a Thompson novel come to life.
Due partly to shot choices but mostly to the radically different scores, each version of the film is a different viewing experience. Dassin, being blacklisted, wasn't involved in the editing, but has said he prefers the American version. An excellent extra feature on the Blu-ray compares both versions and is worth checking out, no matter which one you view first.