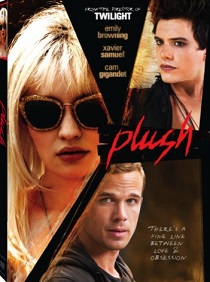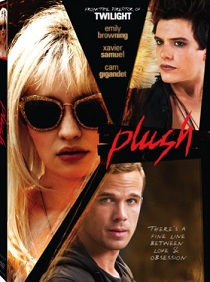 Plush (2013)
Director Catherine Hardwicke began her career with Thirteen, a hard-edged indie teen drama that launched Evan Rachel Wood's career. She then progressed (or transgressed) to the first Twilight movie, equating teenage sexual confusion with the supernatural. It was pulpy for sure, but so are all your problems when you are that age. (The less we say about the abysmal Red Riding Hood the better.)
Her new movie Plush, out on DVD this week, is another overheated melodrama in the vein of Twilight, but with even worse music and tons of actual sex, rather than characters just obsessing over the prospect of it. Come to think of it, the whole movie is about obsession. Sexy goth-tinged rock star Emily Browning reaches the top of the pops with her brother (Thomas Dekker), but when he dies from an heroin overdose, she replaces him with Xavier Samuel, who looks exactly like him. When he starts burrowing his way into her family life, and she indulges her sexual fantasies, things get a little complicated.
Plush is all over the map, but when its characters prattle on about how important their art is amidst all that terrible pose-heavy music, its really insufferable. On some level, as an overheated portrait of a lonely, selfish woman (even though she's married with kids), Plush works. It successfully illustrates the desire that women have to date dangerous jerks, which may be especially true in the rock world. If the backdrop didn't feel so false and the music (by Nick Launay and Ming Vauze) weren't so awful, Plush might not have been so annoying. There is some real hallucinatory darkness there. But it all ramps up into something even more ridiculous than it was at the beginning, and is ultimately explained away like your average twisty thriller.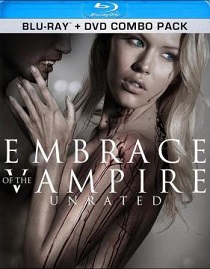 Embrace of the Vampire (2013)
The 1995 erotic "thriller" Embrace of the Vampire is known mainly for being the movie where former child star Alyssa Milano (known then for the TV sitcom Who's the Boss?) bared her breasts. Maybe the prospect of more female nudity (with the tagline "unrated" no less) attached to a vampire title that some people are fairly familiar with was enough of a reason to do a direct-to-video remake. Regardless, that remake is here, having arrived on Blu-ray also this week.
The surprise is, from a production level at least, Embrace of the Vampire is very competent. Even the special effects are decent, rising to the level of what you might get from a prime-time supernatural drama such as Grimm. If only the same could be said about the story. Essentially, Embrace of the Vampire is about a timid college girl (Sharon Hinnendael) who has sexy, violent nightmares and wakes up from them in terror. Meanwhile, she's bring hazed (with the threat of going topless, of course) by older class members and struggling to come into her own on the university's fencing team and in the bedroom.
Every female cast member is ridiculously attractive and the script is constantly manufacturing ways to get them topless. But the film is caught in a spin-dry cycle where there's a ton of conflict (nightmares, school pressure, peer pressure) but no mounting action. It doesn't lead anywhere. By the time it finally reaches its inevitable violent conclusion, there's no reason to care about what happens next. Story wasn't really the strong suit of the original, so I guess this is no big revelation, but even the guiltiest of pleasures are more fun when there's something more substantial to sink your teeth into.