The Criterion Collection has new Blu-rays hitting the market every month, with pristine transfers and tons of bonus features. This review of two new Blu-rays features two legendary directors from across the pond.
Orpheus (1950)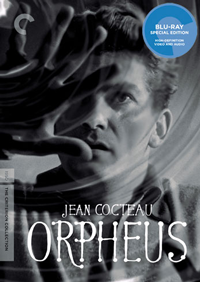 In 1950, French maestro Jean Cocteau didn't have access to CGI special effects to create the surreal visuals that make Orpheus such a dreamlike treat. He accomplished this unsettling atmosphere instead by pure imagination, featuring creative workarounds that make the setting of his movie even more bizarre. (It doesn't hurt that these images are juxtaposed with those of complete normalcy.)
A Princess draped in all black who may or may not be the Angel of Death suddenly turns white when enraged. A mirror turns to water and becomes a portal into a purgatory between life and death that can be walked through. The world outside a car suddenly is a reverse (negative) image. People momentarily lose touch with gravity or arise from death.
You can see some of these simple yet otherworldly effects in the video below.
The myth of Orpheus retold in the midst of Left Bank poets is an odd one. Orpheus (a stoic Jean Marais) the poet is the equivalent of a modern rock star. But rather than focusing on he and his wife Eurydice (Marie Déa) whose special banishment is the plot device that most re-tellings revolve around, Cocteau instead points his camera at the obsession Orpheus has for His Death (an entrancing Maria Casarès).
Pretentious? Certainly. But Orpheus is full of the joy of filmmaking and there is a fairly coherent light through all the madness. It may seem to illuminate man's obsessions and idol worship in a cautionary way, but Cocteau himself is also embracing those very ideas with his film.
Some of the extras on this Blu-ray are even pricklier than the film itself (and a 1984 documentary is dated as hell), but the video interview with assistant director Claude Pinoteau discusses some of the film's best the camera tricks in fascinating detail.
Cul-De-Sac (1966)
An early film by Roman Polanski, Cul-De-Sac at first glance would seem like a bit of a departure for a director known up to then for his 1965 horror movie Replusion and his 1962 thriller Knife in the Water.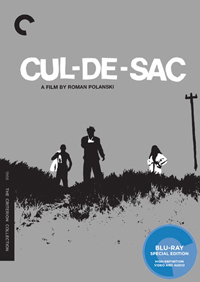 Although, if you think about it, Cul-De-Sac has the same kind of threatening sexual tension that made Knife so intense and hard to watch sometimes and its theme of alienation is one that also runs deep throughout Replusion.
It's just that in Cul-De-Sac, Polanski isn't afraid to play up the tension for the purposes of broad comedy.
A mismatched and distant couple played by Donald Pleasence and Françoise Dorléac encounter a hard-charging American gangster (Lionel Stander) at their hilltop castle on an island in the north of England.
The dynamic changes abruptly as all kinds of sexual games are played and hidden desires bubble to the surface. What I was struck by on first viewing was how impossible it was to predict where it was headed at any given moment.
Polanski uses all kinds of off-kilter angles an close-ups and his actors are absolutely fearless. The pacing is a little off, as there are stretches where it gets a little long, but Cul-De-Sac upends convention at every turn and that s pretty thrilling.
The extras on the disc include a making-of documentary from 2003 and a 1967 TV interview with Polanski. Its pretty Spartan compared to some other Criterion releases, but we should just be happy that the rarely seen film is available digitally now at all.
Here's Criterion's "Three Reasons" video series exploring Cul-De-Sac, and it should give you an idea of the strange tone of the film: