If you're going to experience the pretentious, self-indulgent Nicolas Winding Refn revenge fantasy Only God Forgives outside of a movie theater, the best way to do that is on high-definition Blu-ray.
The night photography of Bangkok is bathed in luminous neon and copious amounts of city lights, while the interior shots are meticulously framed widescreen compositions that could each be their own artistic photographs.
Blu-ray picks up the deep reds and blues that populate so many of the shots and displays them in breathtaking high definition. When coupled with the film's penchant for brutality, the result can be as terrifying as it is alienating.
Director of Photography Larry Smith, who was also Refn's cinematographer on 2008's Bronson, has really outdone himself here in terms of stunning visuals, helped in part by the clean lines and stylized hyper-backgrounds of Beth Mickles' production design.
Why am I leading off with the visuals of Only God Forgives rather than mentioning Ryan Gosling, who plays an empty underworld criminal out to avenge his brother's murder or Kristin Scott Thomas, who plays his inappropriately domineering mother? Because the visual style of the film is the real star of Only God Forgives. Without it, the film would be even more hollow and hard-hearted than it already is.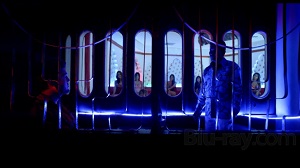 Maybe its no surprise that Refn's most interesting and successful film — the 2011 noir-tinged heist movie-turned-doomed romance Drive — was one that he didn't write. Only God Forgives is entirely his concoction and it feels like a half-baked experiment — a mashup of menacing one-note characters who stare coldly into the camera and hold the frame while Cliff Martinez again delivers a synth-heavy score that does much to establish unease.
Every now and then, a shocking bit of violence is committed, followed by a bit of David Lynchian absurdity that doesn't add up to much.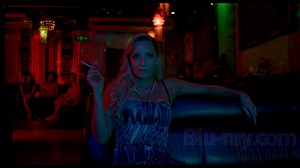 Besides looking fantastic and sounding amazing, the Blu-ray of Only God Forgives also contains audio commentary, some behind-the-scenes b-roll, and two short interviews with Refn. If mystified filmgoers are looking to any of these extra features to provide answers about what the movie is actually about, Refn is happy to talk about symbolism and themes that run throughout the movie. Still, they do little to improve its reputation as anything beyond a surface-value thrill. Since all the "characters" are archetypes, there's no way to really climb inside Only God Forgives and be emotionally affected by any of it.
For that matter, this full-length feature might have been better off as a baffling, beautiful short film.