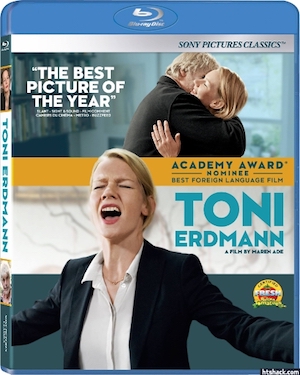 [Rating: Rock Fist Way Up]
Most screen comedies do not stay small. The scripts that bring the biggest laugh-out-loud performances often go into huge exaggerations of life's details. Only a few comedy films stay within the minutiae of human life, observing and bringing out something elemental, relatable and ultimately hilarious.
And then there are the rare films that do both.
The Oscar-nominated German-Austrian film Toni Erdmann does this, following the intricacies of the strained relationship between lonely father Winifred (Peter Simonischek) and his successful businesswoman daughter Ines (Sandra Hüller).
The premise is that Winifred, a bit of a practical joker who likes to pretend he's someone else, pays a surprise visit to his daughter, whom he thinks is beginning to take herself too seriously in her career and in her life. Ines, unsurprisingly, is less amused by her father's intrusion into her routine. The film seizes on the pair and upon the uncomfortable situations they create for one another.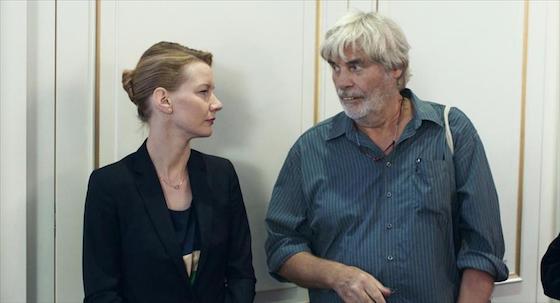 If you do not pay much attention to the plot, you might find yourself well into the film, wondering how such a minor-key drama has suddenly become so weird. (It's funny, though, how standard big-budget comedies get away with becoming ridiculously over-the-top without seeming to bother most viewers.) But it is a testament to writer/director Maren Ade's clear-eyed vision and deliberate building of his story that the comedy and the drama work so well on two levels of absurdity. There are the subtextual messages Ines and Winifred are sending each other—and then there are the upfront absurd exchanges that everyone else sees.
Despite being set in urban Bucharest, Romania, Toni Erdmann is instantly relatable to anyone who has ever been a parent or a child. The film succeeds because it takes its time to develop these complicated and universal relationships while relentlessly skewering banalities of modern life at every stage along the way.
Believe it or not, though this comedy is 162 minutes long, it's unpredictable and delectable throughout its entirety.
It is with no small amount of anger, however, that I must report that  Blu-ray edition is being released only as "Manufactured on Demand" on Amazon.com. This isn't the first chink in the armor of the 1080p hi-res home format, just the latest and most disturbing one. As someone who is increasingly chaffed at the twisted and unreliable path that new movies have to get to the world of streaming (not to mention the fact that there are way too many subscriptions one would need to have access to the films they enjoy), I really hope the Blu-ray format doesn't die out.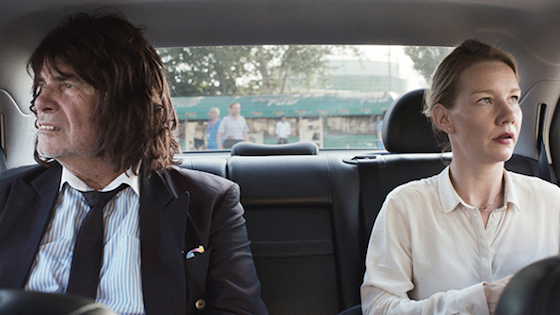 Why anyone would prefer a low-res DVD over a Blu-ray is beyond me, since the Blu-ray players are cheap and act as mini computers, connecting to the Internet and providing all sorts of other content. The DVD I reviewed comes with a commentary track with Simonischek, Hüller, and producer Janine Jackowski, as well as the AFI Fest Q&A with Simonischek, Hüller, actress Ingrid Bisu and producer Jackowski. I assume the Blu-ray would have the same extra features, considering it's high retail price. The omission of director Ade in any of the extra features is pretty crummy as well.
Eric's Test-O-Time Meter: Buy the Blu-ray!
This review is part of Eric Melin's "LM Screen" column that appears in the spring 2016 edition of Lawrence Magazine.