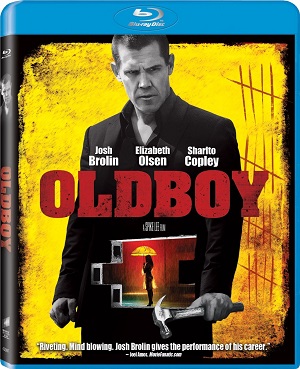 Has there ever been more baggage associated with a movie than Spike Lee's remake/re-interpretation of Oldboy? Possibly not.
South Korean auteur Park Chan-wook directed the original Oldboy, which was controversial for winning the Grand Prix at the 2003 Cannes Film Festival, a year when Quentin Tarantino headed up the jury. It plumbs the psychological depths of an awful human being and contains some shocking scenes of violence.
Ironically, the only shock that registered when Spike Lee's Oldboy was released in theaters last November was at how little money it made at the box office.
It shows just how far violence in the movies has come in 10 short years, because this new Oldboy — released today on Blu-ray and packaged with a digital copy — is technically more overtly graphic in its violence. And it will be available at your nearest WalMart. But I digress. Let's talk about the film itself.
Having not seen the original Oldboy in just under 10 years and having forgotten most of the plot, it was interesting viewing this iconic tale of vengeance through Lee's vision. It's very self-aware and I appreciated Lee's penchant for long takes and sweeping, dramatic crane shots, which lent an epic quality to what is essentially a pulpy and ridiculous story of two-sided revenge.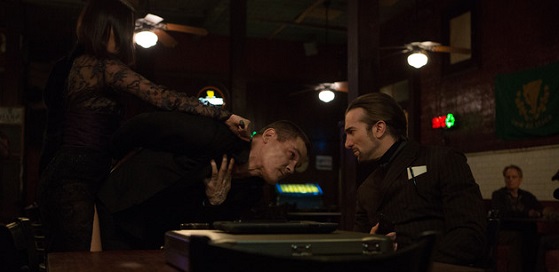 But perhaps transposing it to America lost some of its cultural uniqueness and made the more twisted paths of the plot seem too flimsy and convenient. Certainly Sharlto Copley's portrayal of the villain is less convincing, relying more on affectations than finding the person underneath the monster. Even Samuel L. Jackson is more campier than he is menacing.
Josh Brolin, however, makes a fine monster, working in reverse to reveal his humanity after 20 years of imprisonment by forces that he doesn't understand. During that time, he was framed for his wife's murder and he watched his daughter grow up on TV news programs about the killing. When he is suddenly freed without explanation, he meets a young nurse who recognizes his torment (Elizabeth Olsen), and helps him try to uncover the reason he had his life stolen and was held captive.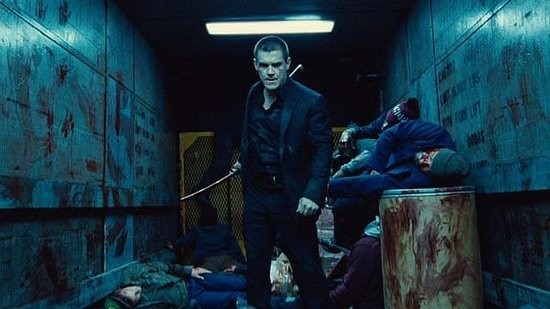 Oldboy is clearly one of Lee's works-for-hire. He didn't write the script (it was adapted by Mark Protosevich, who wrote Poseidon and I Am Legend), he removed his usual credit (A Spike Lee Joint), and the studio supposedly re-edited his cut of the film. That doesn't mean that he doesn't have his cinematic fingerprints all over it, however. Although its never specified, the story seems to take place in a heightened New York City, and the famous one-take hallway fight scene from Park's Oldboy now spans multiple floors and features some impressive revolving camera choreography, even if the studio removed part of it to shorten it up.
In the scant extra features included on the Blu-ray (a couple of short making-of featurettes filled mostly with clips from the film), it's obvious that Lee took the job at least partially because of Josh Brolin's passion for it. Unfortunately, the story doesn't translate well today. Maybe the giant leaps of faith that the original script calls for were easier to swallow 10 years ago, or perhaps it's just that Lee's version seems to mannered to be convincing.
The meager alternate and extended scenes don't add up to much, which begs the question, "What happened to the other 30 minutes Lee wanted in the film?"