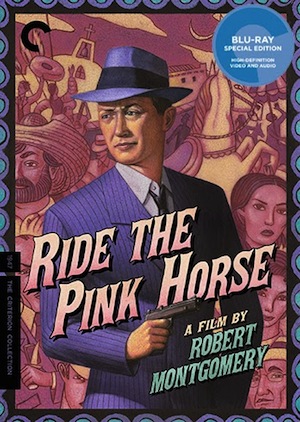 Ride the Pink Horse certainly fits in with the common noir sensibility of post-WWII alienation that many veterans felt upon coming home. Where this rediscovered gem of a movie diverts from the traditional noir landscape, however, is in its locale and a remarkable, unconventional third act.
Thankfully, Criterion has restored this Robert Montgomery-directed 1947 classic with a beautiful 2K digital restoration on Blu-ray, along with some enlightening extra features that shed new light on this overlooked classic.
Known mainly as an actor for most of his career, Montgomery directed his first scenes in 1945 while acting in John Ford's They Were Expendable. Ford was injured on set, so Montgomery stepped in, and he was hooked. Right out of the gate, Montgomery was swinging for the fences. His first movie in the director's chair was the experimental Raymond Chandler adaptation The Lady in the Lake, where the entire film was shot from the perspective of detective Philip Marlowe. It's an interesting oddity that doesn't quite work, and the POV camera strategy means that Montgomery himself (who plays Marlowe) is seldom glimpsed.
Ride the Pink Horse adapts a novel by Dorothy B. Hughes, and shows Montgomery still taking chances, retaining some seriously robust cinematic flair, courtesy director of photography Russell Metty (Bringing Up Baby, Touch of Evil). There are lots of long, fluid takes and a very heavy atmosphere throughout.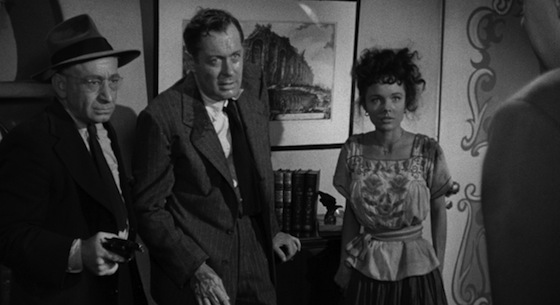 The setting is a New Mexico border town called San Pablo, where angry WWII vet Lucky Gagin (Montgomery) arrives under mysterious circumstances. A tricky crane shot follows Gagin as he gets off the bus and silently hides a key behind a painting in the station. He's all scowl and strictly business, even as he is befriended by an overly earnest Native American girl Pila (a glowing Wanda Hendrix) and a local carousel operator named Pancho (an Oscar-nominated Thomas Gomez).
San Pablo may have the typical seamy underbelly of a noir setting, but its not the urban landscape that the genre is so often associated with. In addition to the moody cinematography, there's a fish-out-of-water kind of menace happening as Gagin strolls around the town searching for slimy war profiteer Frank Hugo (Fred Clark)—a mobster who killed his best friend.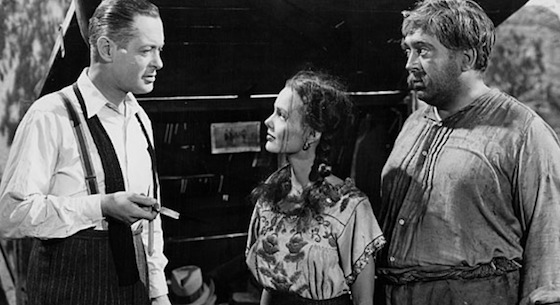 Even with the somewhat magical Pila and reliable new pal Pancho looking out for him, things turn sour for Gagin, who ends up delirious and confused. It's a very strange way for things to turn out, even for a downward-spiral noir. After the wrap-up of the plot, there's a nice tag at the end that deals with the unlikely friendships he's made and further illustrates why Ride the Pink Horse is an unusual film from the time period.
The accompanying audio commentary featuring authors Alain Silver and James Ursini is as informative as you'd expect from these notable noir authorities, and there is a new interview with Imogen Sara Smith, author of In Lonely Places: Film Noir Beyond the City, which is excerpted below. As an extra added bonus, Criterion has also included a Lux Radio Theatre adaptation of the film from 1947, featuring Robert Montgomery, Wanda Hendrix, and Thomas Gomez.
With this new Criterion Blu-ray (and DVD) reissue, Ride the Pink Horse should take its place among the film noir genre as one of the greats.