Check out videos of all my movie reviews on KSNT-NBC, KTKA-ABC, and KTMJ-FOX, Kansas First News.
Les Misérables (1998)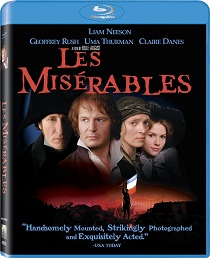 As Hugh Jackman and Anne Hathaway cause audiences everywhere to tear up this winter with the in-your-face melodrama of the musical Les Misérables, a little-seen 1998 non-musical version starring Liam Neeson, Geoffrey Rush, Uma Thurman, and Claire Danes hits Blu-ray and DVD. For my money, it's about a hundred times better.
Once you remove the corny libretto of the musical, the story of Jean Valjean's redemption and Javert's moral struggle opens up to all kinds of subtlety and nuance — two things completely lacking in the musical. Les Misérables, directed by Billie August, adapts Victor Hugo's classic novel with realistic production design and a truly powerful performance from Geoffrey Rush that's enough to make you forget all about Russell Crowe's one-note turn in the new one.
The new Blu-ray is sorely lacking in special features, however.
Resident Evil: Retribution (2012)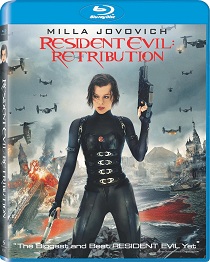 At the complete opposite end of the spectrum, Resident Evil: Retribution is the fifth installment of a movie series that was based on a videogame way back in 2002. Milla Jovovich is back yet again with tons of slow-motion gunplay and acrobatics as she fights off hordes of zombies in a virtual reality compound. Or something like that.
To say this film is brain dead is to go beyond talking about the zombie population that Jovovich and her hyper-sexualized cohorts kill off. It's just plain dumb. But somebody must like it, because Resident Evil 6 is on the way now too…
In contrast to the bare-bones Les Misérables Blu-ray, the Resident Evil: Retribution Blu-ray has two entire audio commentaries with director Paul W.S. Anderson, Milla Jovovich, and more, as well as 17 minutes of outtakes, extended scenes, and deleted scenes. Eight different featurettes and one of those "interactive database" things that nobody ever uses close out this packed Blu-ray set.