What a pleasure it is to revisit a modern classic, be able to pinpoint exactly why it became one in the first place, and understand just why it has held up so well.
The Criterion Collection has just released a new 4K digital restoration of 1991's groundbreaking and Oscar-winning The Silence of the Lambs, approved by director of photography Tak Fujimoto, with a 2.0 surround DTS-HD Master Audio soundtrack. And even though it has been ripped off and parodied a thousand times since then, director Jonathan Demme's unlikely masterpiece retains all of its spooky charm and upholds its torchbearing reputation for having a strong (and complicated) female lead character.
Having made Something Wild and Married to the Mob, Demme wasn't the first person Hollywood was thinking of to make a horror-tinged suspense film, but looking at those movies, it's obvious he was familiar with and excited by the prospect of having a woman lead the picture. After original director Gene Hackman passed on the final version of the Ted Tally script because it was too violent, it was offered to Demme. Good thing too. There are so many moments in the movie that are plainly burned into my brain, but its thrilling to revisit the film in its original context. How many tropes were created for procedurals, serial killer mysteries, and horror flicks to come? For better or worse, this is ground zero for every modern cliche since then.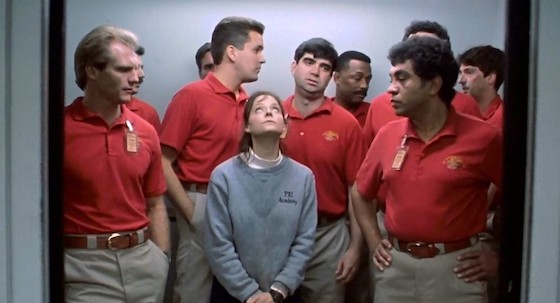 Although The Silence of the Lambs opens with an FBI training montage that one might deem typical of its genre, there's a strong visual undercurrent of unspoken sexism that trainee Clarice Starling (Jodie Foster, who got the role when Michelle Pfeiffer passed on it for the same reason Hackman did) is dealing with. Male fellow officers in training turn around while jogging by her to check out her ass. She gets in a crowded elevator with a bunch of other men who dwarf her in size — and she's the only one not wearing a red polo shirt.
What I noticed more than anything this time out was how perfectly constructed the movie is. Clarice's POV is established, we meet her superior Jack Crawford (Scott Glenn), and 10 minutes in is that first fateful Hannibal Lecter interview.  I challenge anyone to come up with a film that has so many key moments and memorable character introductions this quickly: The cocky, chauvinistic Dr. Chilton (Anthony Heald), his flirtations, his warnings (building suspense), her rebuff at the door of the final walkway, his anger, the slow and careful walk down the dungeon-like hall, Miggs the crazy inmate with the shocking gender insult, and finally, Lecter (the unforgettable Anthony Hopkins) standing there so still, as if he'd been waiting for her — a date with destiny.
I'll admit that in the wake of the enormous cultural impact Hannibal Lecter has had in the last 17 years, Hopkins' performance borders on hammy territory every so often, especially the sucking-in noise after the line about eating the census-taker's liver with some fava beans. But that's what happens when you transcend your medium and enter the world's consciousness on this level. Lecter, as a whole, still has the power to surprise and shock. At the least, no actor since has been able to convey life-threatening danger with so little movement (and, as is widely known now, without blinking).
There are plenty of subtle elements in Demme's storytelling, however, that I had forgotten about. He uses very short flashbacks to Clarice's childhood, and her relationship with her father — a cop who was murdered on the job tragically very young when she was 10. It's a formative experience that will be dredged up in later interviews with Lecter, but it's astonishing to see how efficiently they were used compared to how vivid they are in my memory.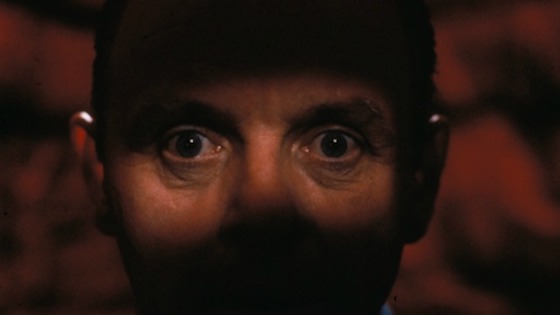 Demme's use of close-ups is remarkable too, and not something that's translated into contemporary film language too often anymore: Faces, eyes, hands; they're everywhere, making the suspense personal, and therefore way more frightening. That shot of Clarice looking into the camera with Lecter's reflection staring back, just off-center, signifying the closeness they will eventually have.
What other movie that isn't really an ensemble picture (and is just two hours long) has this many so many colorful and memorable supporting characters? I've already mentioned Crawford and Chilton, but Barney, the West Virginia coroner, the bug guys, poor Lt. Boyle (Charles Napier) who's in charge of Lecter's transfer, the cop with the mustache (Danny Darst) who's running security, Senator Martin (Diane Baker), and her daughter Catherine (Brooke Smith) who is also a tough woman, kidnapping Buffalo Bill's dog. Demme gives each character a moment to shine and these faces are forever imprinted on our cinematic memory.
Rightfully so, The Silence of the Lambs is now widely acknowledged to be a masterclass in suspense, sporting two all-time classic fake-out redirects: Lecter's escape and Clarice at the "wrong" house. No movie will ever again be able to misdirect this successfully because since seeing Lambs, we are always on the lookout for a filmmaker fooling us into thinking one thing is happening while the real action is right under our noses. Oh yeah, about that escape:
"It's Jim Pembry, now talk to him dammit!"
Remember that line? There's so much emotion tied up in that one line reading from Danny Darst that it sells the whole reveal. And after the reveal, what's the image that brings the shock and danger close to home? Howard Shore's rising score reaches its apex … and then smash cut to Kasi Lemmons dropping the phone and sprinting down the hall to warn her friend Clarice that Lecter has escaped. Perfect.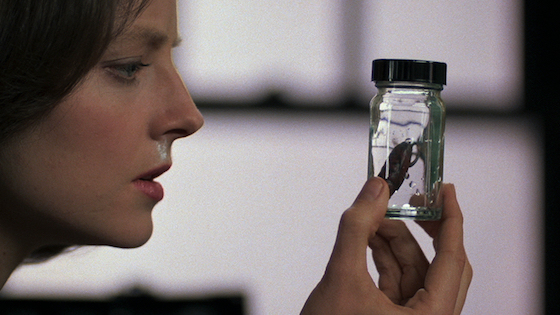 Much has been made of the serial killer Buffalo Bill (an unforgettably strange Ted Levine) being a transsexual crossdresser, and how this portrayal villainizes and makes people in the LGBTQ community seem even more "the other." It's true. But it's also true that Starling says there's no correlation "between transsexualism and violence." The story as written, however, is that he was abused as a kid, he hates his own identity, and he thinks that makes him a transsexual. Lecter, for what it's worth, tells Clarice that he's not a "real" one. So , yes, the film seems as confused on this point as we are by now, no doubt.
In 1998, The Silence of the Lambs was spine number 13 in The Criterion Collection on DVD, and I've had it ever since. The audio and 4K video are a definite upgrade. The 1994 audio commentary has also been ported over from that, and it's really informative, but Demme, Foster, Hopkins, Tally, and former FBI agent John Douglas aren't in the same room, so it's a weird, assembled commentary with a narrator explaining who is talking at any given time. The 1998 Criterion DVD also featured seven deleted scenes, but this new edition runs 38 minutes of extended and deleted scenes (of vastly differing quality) and some bloopers together. If anything, these longer cuts show just how effectively Demme was at expressing the same character and story beats more efficiently in the final cut.
A 2017 interview with critic Maitland McDonagh is a nice addition, while four archival documentaries of varying lengths cover a lot of ground. The Silence of the Lambs is one of the few movies that was recognized almost immediately for its cultural impact, so it's nice to have these extra features, especially since Demme's unfortunate passing last spring.