This review originally appeared in shorter form on KSNT-NBC, KTKA-ABC, and KTMJ-FOX, Kansas First News.
Two critically acclaimed entries into the 2011 Oscar race make their way to DVD and Blu-ray, but one is significantly more successful than the other in the drama department.
A Dangerous Method (2011)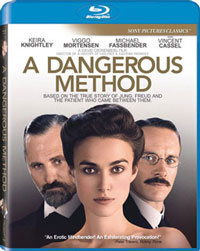 Viggo Mortensen stars as Sigmund Freud and Michael Fassbender is Carl Jung in A Dangerous Method, a piece of historical fiction that explores the birth of psychoanalysis. Keira Knightley is way over the top as mentally disturbed Russian girl who is helped by Jung's "talking cure," and who eventually drives a wedge between the repressed Jung and skeptical Freud.
Director David Cronenberg is known for exploring the darkest corners of the mind in body-horror movies like The Fly and Dead Ringers and dramas like A History of Violence, but this film is remarkably restrained, sometimes to a fault. In fact, there are no obvious visual Cronenberg flourishes, and maybe some surrealistic touches might have upped the ante a little.
Still, it does tickle the brain enough to be engaging and the director's commentary track places the true parts of the story in perspective, which is pretty interesting.
Tinker Tailor Soldier Spy (2011)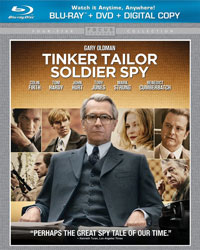 That's more than I can say for Tinker Tailor Soldier Spy, a film that's billed on the Blu-ray box as "perhaps the great spy tale of our time." Perhaps the person who wrote that likes watching paint dry.
I'll say this much: It works OK as a slow-moving character study, but anyone expecting an actual spy "thriller," esecially since its based on the classic 1974 John Le Carre novel of the same name, should look elsewhere.
Tomas Alfredson has a knack for handsome-looking formalistic widescreen presentation, but the constant flashbacks and juggling of all already byzantine story — sometimes before characters have even been properly introduced — is confusing as hell.
Star Gary Oldman appears in interviews and a commentary track on the Blu-ray, both of which you might need to explain the intricacies of the plot. The sets and cinematography are very artfully done, but Tinker Tailor Soldier Spy is as frustrating a movie as I've seen in years.
Read my full review of Tinker Tailor Soldier Spy here.