This review originally appeared in shorter form on KSNT-NBC, KTKA-ABC, and KTMJ-FOX, Kansas First News.
Two smaller releases are new out on DVD that may appeal to niche audiences. One has a local slant, while the other is a sci-fi story that was ahead of its time.
Sweet Little Lies (2011)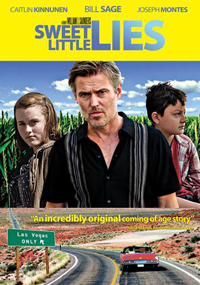 An independent movie with mainstream appeal is out now on DVD, and it was partially filmed right here in Kansas.
Sweet Little Lies is directed by William J. Saunders, the son of former Kansas City Chiefs offensive coordinator Al Saunders.
A coming-of-age road trip film about two kids (Caitlin Kinnunen and Joseph Montes) who steal a car on a journey to find one of their long-lost parents, Sweet Little Lies is an odd hybrid.
Some computer-animation fantasy sequences heighten the movie's low budget, but the uneven script is a bit of a problem, especially when it can't pull off some of its comedic moments.
That said, actor Bill Sage ties the film together emotionally and the story of finding yourself is a pretty universal one.
World on A Wire (1973)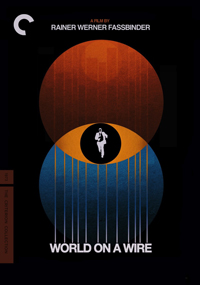 World on a Wire is a different beast altogether. Shown originally on German TV in 1973 and only released theatrically in 2010, this two-part sci-fi nightmare predates Blade Runner in its theme of human replicants and The Matrix and Avatar in its idea of a plugging into a virtual-reality computer program.
Director Rainer Werner Fassbinder is working in the are of genre films, something he didn't do all that often, and he fills this visually impressive tale full of mysterious characters and a dark sense of humor.
Tellingly, however, he never strays from the philosophical questions of identity that make films like these so engaging. The visual motif he uses to illustrate this throughout are reflections in a mirror, sometimes multiple ones, and it gives the film a constant sense of unbalanced paranoia.
World on a Wire is a densely plotted, surrealistic film full of plenty of twists, and big sci-fi fans will want to check out its restoration on Blu-ray and DVD by The Criterion Collection. Along with an essay by Ed Halter that accompanies the movie, World on a Wire also features:
New, restored digital transfer, supervised by cinematographer Michael Ballhaus, with uncompressed monaural soundtrack on the Blu-ray edition
Fassbinder's "World on a Wire": Looking Ahead to Today, a 50-minute documentary about the making of the film by Juliane Lorenz
New interview with German-film scholar Gerd Gemünden