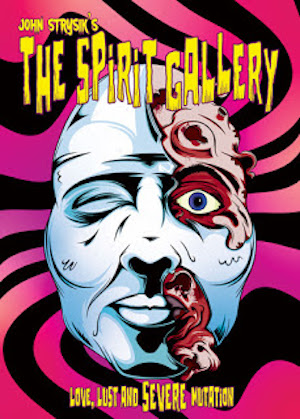 [Rating: Minor Rock Fist Up]
Director John Strysik's 1995 feature The Spirit Gallery is a hallucinatory shot-on-video oddity which manages to take a familiar plot and turn it into something special. While it certainly has a made-for-TV vibe to it, the sheer weirdness of how the story unfolds is what makes this film worth checking out.
"Gwendolyn Creed was a God-fearing woman until she met B.A. Catch and his fantastic abilities. A legendary and reclusive artist, Catch could manifest ectoplasm from the palms of his hands – and steal your soul in the process. Sculpting faces out of soul-matter, Catch opens doorways into alternate dimensions where pain and pleasure combine. People are beaten, stabbed and crucified. The body is altered, the skin diseased and in need of new host to survive – but can love win out?"
In the commentary track on this DVD release from SOV Horror, director Strysik explains that what he wanted to go for in The Spirit Gallery is something akin to The Picture of Dorian Gray in reverse. In that Oscar Wilde novel, the protagonist has a portrait of himself which, thanks to selling his soul, ages and features his many sins, while he remains young and unblemished. In this film, the bodies of those from whom artist Catch (Jim Burkhart) makes masks bear the brunt of the fantastic abuses of the mask's owner.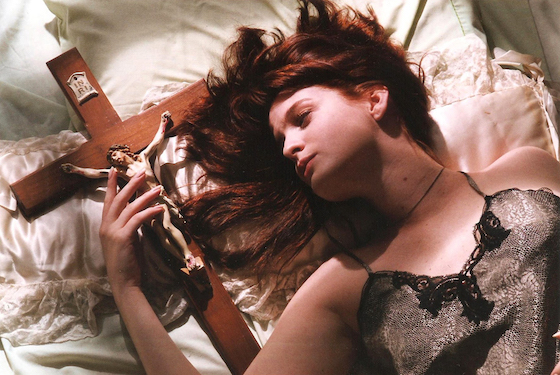 Essentially, gallery owner Gideon Haul (Leonard Parnell) owns one of Catch's masks, and in a fantasy world, is beaten, stabbed, and horribly attacked, but the mask heals all his wounds. Unfortunately for him, the mask's powers are waning, and thus, he must find a new pure person from whom to have Catch make a mask. That's Creed (Holly Riddle Zuniga), who is obsessed with Catch's artwork and becomes Haul's new secretary in order to get closer to the reclusive artist.
From there, faith is tested, bodies are mutilated, and a series of sticky, creepy interactions culminates in a Society-esque finale. It's a lot to take in, and while not all of the cast is quite up to taking it on, the portrayal of art as transgressive and dangerous makes for a fascinating watch. Parnell as Haul is a little wooden, which is unfortunate, as his character should be alternately charming and creepy, the better to lure in Zuniga's Creed and take her innocence. It's only Zuniga's performance as Creed which lets the viewer believe that she's naively obsessed enough to the point of being trapped.
Thanks to the lensing by cinematographer Sue Colbern, The Spirit Gallery looks far better than it's acted. Courtesy of some guerrilla filming in and around San Francisco, the film's production value skyrockets, thanks to on-location shots in prominent places, rather than the entirety being shot in someone's backyard. The factory where artist Catch makes his home is fantastic, and positively looms over the proceedings of every scene which take place within its confines.
According to Strysik's commentary, it's thanks to the particular camera used that the darker scenes look so good. I've seen a number of SOV horror films where the dark scenes are nearly imperceptible, but every one of The Spirit Gallery's nighttime or darkened interior scenes looks creepy, not cheap. It does have the negative effect of making every well-lit or daytime shot quite obviously shot on video, but it's never blown out, just a little more bright or flattened than one might want, in a very sitcom kind of way.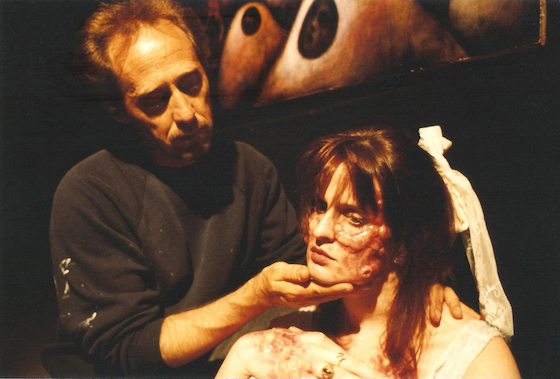 It's really a fun film, and it absolutely breezes by. At no point does the film lag. I'm usually loathe to watch a movie twice in a row, but thanks to the fascinating visuals – especially once Creed meets Catch, and even in the earlier scenes of Haul getting his kicks being stabbed and attacked by masked assailants – The Spirit Gallery makes for an entrancing watch. Director Strysik's commentary isn't always 100% related to what's happening on-screen, and takes rather more of an overall behind the scenes tack, but it's informative and explains some of what we're seeing take place.
In terms of extras on SOV Horror's DVD release of The Spirit Gallery, in addition to Strysik's commentary, there's a trailer for the film itself, as well as other SOV Horror releases, a reproduction of a magazine article seen in the film, behind the scenes stills, and an early short film by Strysik entitled Young People in Trouble, which feels like John Waters took on a Centron film.
If you're looking for something to scratch that Full Moon Features itch, but with a stronger sense of vision – not for nothing did Strysik write a couple of Stuart Gordon features – The Spirit Gallery should fill the need. It might not be perfect, but it's unique in its vision and delivery.