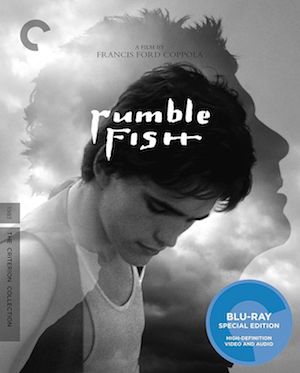 [Rating: Minor Rock Fist Down]

It's hard to believe a movie like Rumble Fish, out now on Blu-ray from The Criterion Collection, exists.
Made directly following Francis Ford Coppola's soon-to-be-iconic adaptation of S.E. Hinton's The Outsiders, Rumble Fish has similar young adult coming-of-age source material, but Coppola's approach to the material is very, very different.
Whereas The Outsiders was a straightforward and traditional Hollywood film, albeit one that took the plight of mid-60's teenagers seriously, Rumble Fish views the struggle of its teens through the heavily stylized black-and-white world of German Expressionism and the youthful outcasts of the French New Wave.
It's a bold choice, and it probably seemed like an appropriate one, considering Hinton (who co-wrote the screenplay with Coppola during the filming of The Outsiders) again fills her story with archetypes.
Rusty James (Matt Dillon) is the teenager who wants to be a tough gang leader like his older brother Motorcycle Boy (Mickey Rourke), who left town months earlier. They have an alcoholic good-for-nothing father (Dennis Hopper), and Rusty James seems to push everyone close to him, including his girlfriend Patty (Diane Lane) away with his behavior.
There's a certain novelty to seeing Nicolas Cage in one of his early roles, and the chiaroscuro lighting and shadows are admittedly handsome (especially for someone like myself who is such a sucker for noir-ish filmic style), but there just isn't enough to keep Rumble Fish afloat in the story department. There's a lot of talking and existential ruminating, but very little forward movement.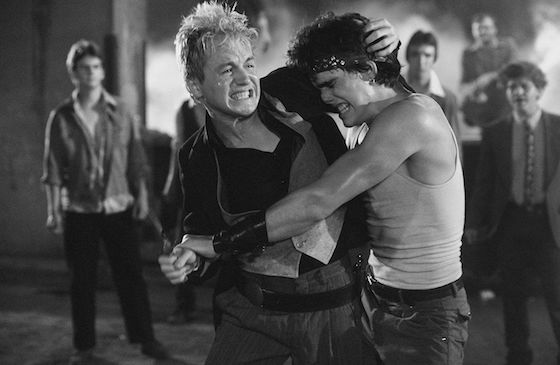 Perhaps Coppola's inspirations kept his cast a little hamstrung as well. French New Wave classic like The 400 Blows and Breathless had naturalistic performances amongst the high style, but the actors in Rumble Fish know they're involved in the making of an "artistic" project so there's a staginess to their performances that further alienates.
Coppola's bolder choices (like having the highly symbolic Siamese fighting fish in the pet store appear in color and having Rusty James literally fly over his loved ones) actually do make the film more interesting to watch, but the simplistic and inert melodrama of the script can't keep the film up there in the clouds with Rusty James.
That said, I'd still categorize Rumble Fish as a must-watch for serious film fans. It remains an iconoclastic curiosity, and Criterion's 4K digital restoration is quite beautiful. The extra features are overflowing, even for a Criterion release.
There's a Coppola audio commentary and deleted scenes hosted by the director, as well as new interviews with Coppola, Hinton, Dillon, Lane, associate producer Roman Coppola, and production designer Dean Tavoularis. Archival interviews from 1983 with Dillon, Lane, actor Vincent Spano, and producer Doug Claybourne are interesting, as is a French television interview from 1984 with Rourke, because it's fun to see how they viewed the film in the moment, rather than with the hindsight of today. There's also a plethora of featurettes on other elements of the production, including the fascinating choice Coppola made to assemble a dry-run early version of the movie, shot on video during the rehearsal process.