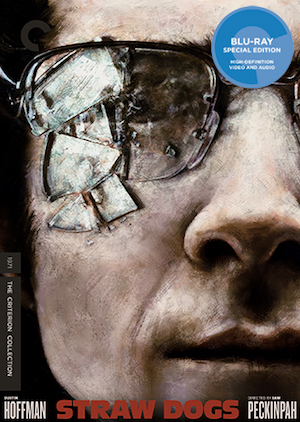 [Rating: Solid Rock Fist Up]

Culture is always evolving. As the times change, so do attitudes. Sure, you can read all about the post-60s sexual revolution hangover, but what better way to experience this pivotal moment in time (or any, for that matter) than through something that was made in that moment? Something that gives you the sights and sounds — the immediacy — of film?
Besides the new restored 4K digital transfer, in this new Blu-ray package, The Criterion Collection does a fantastic job discussing the complicated facets of this 1960s fallout — and of director Sam Peckinpah's misogynistic tendencies — in his controversial 1971 movie Straw Dogs. With the cultural climate of today, it's pretty hard to defend some of the choices Peckinpah makes in this movie, but put in context with his body of work and the confusion of the times, there is no doubt that the movie deserves a chance to keep sparking conversation.
In a new interview, film scholar Linda Williams weighs in on a number of the film's thornier issues, not the least of which is the problematic rape sequence featuring Susan George. I shouldn't feel like I have to avoid spoilers for a movie that is 46 years old, but I'm still going to refrain from going into too much detail about it. Suffice to say, that there are multiple ways to view this pivotal sequence and its intention, both in the moment and in the larger context of the movie, and the extra feature Criterion has included address this remarkably well.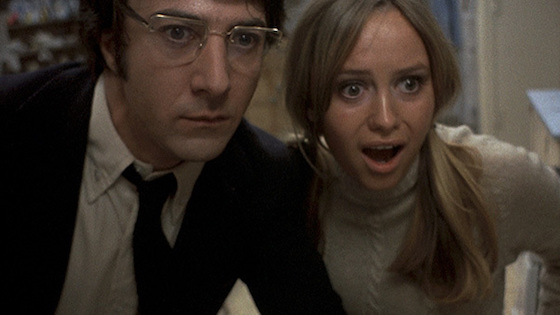 Dustin Hoffman himself, the star of the movie, even feels queasy about it in archival interviews some 20 years after its release. Ironically enough, in another interview, Susan George views it as the high point of her career and is extremely proud of it.
Ostensibly, Straw Dogs is a long-simmering revenge thriller that eventually explodes into an extended fit of ultra-violence that verges on camp. But the sexual politics at play as a nerdy American mathematician (Hoffman) moves to the small Cornish town where his wife (George) grew up are far more complicated than the over-the-top ending might suggest. In fact, the word "campy" is probably something that could only be assigned to the film today, looking through the lens of modern movies. Films in 1971 didn't have this level of violence in them, and it wasn't as easy to look at this story with any distance.
Straw Dogs is rather loosely based on the 1969 Gordon Williams novel The Siege of Trencher's Farm. After listening to the audio commentary by author Steven Price and watching the full-length 1993 documentary Sam Peckinpah: Man of Iron, which are both included on this exhaustive Blu-ray, it's clear that the final film is very much a product of a troubled, deeply unhappy man.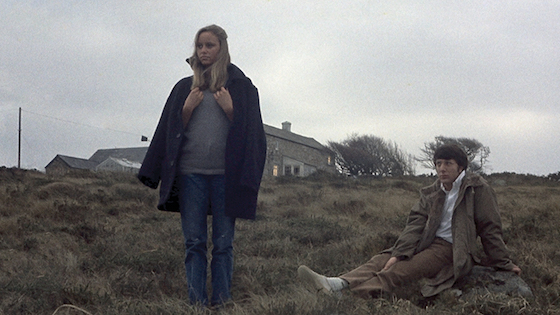 Mantrap: "Straw Dogs"—The Final Cut, a 52-minute 2003 documentary about the making of the film explores more aspects of production, plus there's also seven minutes of behind-the-scenes b-roll footage. A 2017 conversation between critic Michael Sragow and filmmaker Roger Spottiswoode, one of the editors on the film, goes deeper into Peckinpah's shooting and editing strategies. Lastly, the archival interviews with Geroge, producer Daniel Melnick, and Peckinpah biographer Garner Simmons, round out an impressive array of material from Criterion.
History is constantly rewriting itself. Lately, it seems that there are a lot of stories and microcosms from the 20th Century that seem to be forgotten, as society moves towards this disturbing trend where people only believe in the version of history that fits their beliefs. As problematic as it is, Straw Dogs is proof of the enduring relevancy of cinema as a cultural document. The questions it raises about sexual consent, masculinity, and humanity's penchant for violence are as urgent today as they were in 1971.