This review originally appeared in shorter form on KSNT-NBC, KTKA-ABC, and KTMJ-FOX, Kansas First News.
With local stores stocking up on Halloween candy and costumes, it may be time to start looking for some new horror movies to rent. Here are two new releases on Blu-ray and DVD.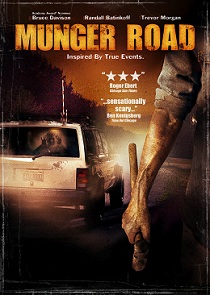 Munger Road (2011)
There's a lot of unsourced rumors circulating on the Internet about the train tracks that cross Munger Rd. in Bartlett, Illinois—something about invisible hands that will push vehicles stopped on the tracks to safety.
Using that ghost story legend as a backdrop, the effective, low-budget Munger Road is part ghost story, but mostly straight-up thriller. Four teens get stuck in the middle of nowhere after investigating the legend as an escaped murderer stalks the woods. Bruce Davison is on board to lend some cred to the project, but doesn't add much more than a recognizable face.
Using the less-is-more approach, however, director Nicholas Smith builds the film to an effective and suspenseful climax. But then, Munger Road stops abruptly and annoyingly with a "to be continued." Really? Let's hope this is not a new trend in horror movies. I heard about The Devil Inside. Yeesh.
The Texas Chainsaw Massacre 2 (1986)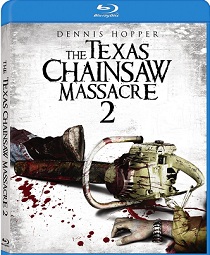 Out on Blu-ray for the first time is the misunderstood and controversial sequel The Texas Chainsaw Massacre 2, directed by Tobe Hooper, who manned the original in 1974, and starring Dennis Hopper in the same year that he also did Hoosiers and Blue Velvet.
Appearing 12 years after the original, this was greeted with catcalls in 1986, mostly because it had way too much sick black comedy and not enough genuine scary moments.
But time has been kind to this strange movie, and now it plays like a bizarre satire of 80s excess–kind of like a backwoods version of American Psycho with equal parts gross-out humor and over-the-top acting.
The Blu-ray has some really great extras, such as two commentaries, deleted scenes, and a 90-minute making-of documentary. Not bad for a film that has grown from a flop into a genuine cult classic.